By Emerald Green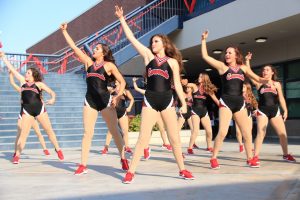 Teens and parents flooded the courtyard from 5-7 p.m. on Thursday, Aug. 9 as incoming freshmen connected with next week's peers and faculty members over hot dogs in the quad.
"I think for a lot of freshmen high school is very intimidating," Mr. Aberman, AP U.S. History teacher, said. "The freshman bbq is supposed to put them more at ease. It's supposed to be a happy, fun experience that takes some of that intimidation factor away."
StuCo members lined club tables up along the four walls of the courtyard for new students to interact with club members and discover what extracurriculars will be available for the next four years.
"Many kids have very different interests, and most of them just want to know that other kids are like them," Mr. Aberman said. "The goal is to open the door to a wide variety of kids."
Star Wars Club, Interact Club, and Gay/Straight Alliance were three of the many clubs that offered more to students' high school experiences than just their academic lives.
"I have four signatures already, and it's only 5:04 p.m.," senior Madison Kleinrock, founder of DIY (Do It Yourself) Club, said. "I signed up for a lot of clubs during my freshman barbecue. Then, I realized that I couldn't do all of them, and that I would have to make some tough decisions."
At these booths, older students, including graduating seniors, shared words of wisdom with their younger peers.
"It's not nearly as bad as all of the middle school teachers tried to tell you," Kleinrock said.
"Get involved because it will make your high school experience better."
Band, varsity cheer, and the Cougarettes performed for the crowd to showcase the school's award-winning and nationally-recognized arts program in which students can get involved.
"It looks like a pretty cool school, and I'm really excited to go here,"Jordan Molina, freshman, said.