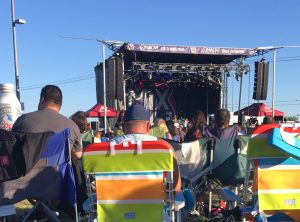 By Madison Kitch
Bite of Las Vegas is a local music and food festival organized by the popular radio station, Mix 94.1. BOLV is a great chance for up-and-coming eateries in Las Vegas a chance to get out there, while giving well-known restaurants and fast food places a place to attract new customers. Also featured a the food festival was live entertainment, such as Jewel, Echosmith, Hoobastank, MAX, Great Big World, Ocean Park Standoff, and Willa Ami. The tickets to Bite of Las Vegas are $20 for a general admission, and $80 for the VIP, which gets you two meal vouchers, drink vouchers, free water and soda and access to a premium area located in front of the stage; that's a pretty good deal.
That pretty good deal though is for entrance only; the ticket doesn't mean the food is free. (The featured eateries have to make money somehow.) I visited the food stands for Cafe No Fur, Fluff Ice, Shake Shack, Ben & Jerry's, Stripburger, and Art Bus Coffee, all of which were fantastic. Cafe No Fur serves many vegan and non-vegan dishes at their base location, but at BOLV they were serving boba or bubble tea. I ordered the thai tea but forgot to mix it; however, the unmixed drink itself was great. The boba was a good consistency but a little oddly shaped, as there was a few squares that came through my straw.
If you've ever been to a Shake Shack, you know that only rave reviews come through. Normally Shake Shack exceeds all expectations, but they fell short this time by not serving… shakes. I understand why; in the Vegas heat, it's hard to keep anything cool for more than a few minutes. But Shake Shack is a big enough corporation that you'd think they could afford a fancy cooling system. Either way, they were serving classic fries and several variations of a burger. The fries were exceptional, but I was hoping for a chocolate chip marshmallow shake.
Now, Ben & Jerry's is another timeless classic that was serving cold drinks. I ordered a Cookie Cookie shake, considering how warm it was outside. The shake was delicious as is everything at Ben & Jerry's, and I especially enjoyed the chunks of dough at the bottom I spent five minutes trying to eat with a straw.
Another cold dessert that helped beat the desert heat was fluff from Fluff Ice. Fluff Ice is a food truck that serves Las Vegas and Los Angeles, and now has a permanent shop in Las Vegas. They serve a wickedly delicious dessert that has the sweet creaminess of ice cream yet is lighter than air. The Chocolate Monster (served with Oreo bits, because Fluff Ice knows what the people want) was a decadent dessert that satisfies those chocolate cravings.
Out of all these places to eat, I only had two solid foods, and a classic Stripburger burger was one of them. I ordered the Classic Cheeseburger for $5 and got a 25% off coupon for next time I'm in the mood for meat. The burger featured a nicely grilled meat patty, with American cheese, pickles, and a perfect golden bun. Unfortunately, my bun fell off when I was trying to play a game on my phone, but I'm sure it was delicious. The rest of the burger I managed to eat was great though. It was the type of burger that leaves you coming back for more, and I almost did.
Lastly, I visited Art Bus Coffee to fuel me through the rest of the day. (even though it was 4:00 in the afternoon.) The thing is, I don't like coffee, but I like caffeine. Art Bus Coffee had just the thing for people that go to a coffee place when they don't even like coffee, and that was an iced chai tea with lavender extract. This beauty was a perfectly crafted cool tea, and the lavender taste was impeccable. If you're convinced now, just wait; it gets better. Art Bus Coffee is a food truck (or 1985 British double-decker bus, if you will) that travels along routes in Las Vegas. Downstairs, it's a great little cafe, but upstairs it's a traveling photo gallery. All photos are taken and sold by the owner, Steve Patchin. They're all available to be bought and taken home that day. A quote from the website (https://artbuscoffee.com/) says, "I wanted to find a good way to bring art to people, so they could experience it in person instead of through a phone screen. This led to what is now Art Bus Coffee, a concept and a bus that became a very big project designed around making my photography and photo paintings easily available and mobile." Art Bus Coffee is truly a creative wonder, considering the bus itself is from 1985.
The live music provided was equally as fantastic. Frankly, I went mostly for the food, so I was only actually watching Great Big World. You may know them from their Grammy-award winning collaboration 'Say Something' with Christina Aguilera. The performance was so lively, and the crowd was really pumped up. The VIP section upfront was by far the most excited though.
Overall, Bite of Las Vegas was a fantastic experience. From the food, to hearing the music as I ate my food, everything was a well-put together food and music bash. I would recommend going the next year when Mix 94.1 puts this masterpiece together again.