Men's varsity football
By Matt Eskridge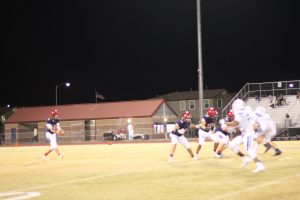 In a non-conference game, men's varsity football lost to the Centennial Bulldogs 34-0 on Friday, Sept. 21.
In the first half, Coronado struggled to hold on to the ball after fumbling on the very first play and punting it five times after. They were down 20-0. The Cougs forced Centennial to punt in the third quarter but were still left in the dust, 20-0 behind the Bulldogs.
"These kids need to stop focusing on them [rivals] being bigger and focus on the game they know," Coach Griggs said. "I know they can play."
Early in the third quarter, Centennial punted to the Cougars where they would have possession at their own 30-yard line. Even though they were down 20 points, there seemed to be hope for Coronado. That hope quickly vanished, however,  when Coronado turned possession over on downs.
"After that play, it all went downhill," Coach Rob said. "This is just a bad game for us."
At the fourth quarter Centennial, scored a two-yard touchdown from the kick return in the third quarter to get them to the eight-yard line, giving Coronado the 34-0 loss.
"Without a doubt, this was our worst performance of the season," Coach Anderson said. "We can practice and practice what we are supposed to do in the game, but it looks like we need to practice even more."
Despite losing this game, the Cougars are 3-2 and still have a chance to qualify for the playoffs. Varsity's next game is at Green Valley on Friday, Oct. 5.
Tennis
By Sage Tippie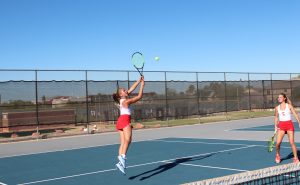 In their home match versus Green Valley on Monday, Sept. 17, boys and girls varsity tennis destroyed the Gators, the boys 14-4 and the girls 17-1.
The boys took the Gators down 14-4. Seniors Akhil Mohan and Colin Peltier led the Cougs 2-0 in their round of doubles. Sophomores Zachary Sullivan and Jonah Blake also took 2-0 in their doubles match.
"It felt so great to do so well against a rival school like Green Valley," senior Ethan Quandt said. "We just keep improving as a team every game, and I hope we get better and better until we're our very best for State."
The girls defeated Green Valley 17-1. Senior Rayne Hayes and junior Sophia Potamitis swept away the Gators in their doubles match 2-0. In their round of doubles, sophomores Ava Nhaisi and Sofia Alvarez won 1-0.
Varsity tennis plays Spring Valley at home on Tuesday, Sept. 24 at 3 p.m.
Men's Varsity Soccer
By Bryce Becker
Men's varsity soccer tied 1-1 in an away game against Tech on Thursday, Sept. 20. Lincoln Aquino, junior scored a goal while the Cougs battled to get the lead the game ended in a tie.
On Saturday, Sept. 22, the Cougars won a tough battle 3-2 in an away game versus Clark. Both teams scored in the first half and fought to take the lead. In the second half the Cougs pulled ahead with two more goals while Clark only scored one. With goals from Aquino scoring one, and senior Alfredo Diaz scoring two the Cougars took the victory.
"I feel like we have been playing very well, there is still room for important, next game  we will prepare by learning from our mistakes and working hard at practice," Ryan Wilkinson, sophomore, said.
The Cougars are 2-0-1 in their conference and their next game is a home game after school on Thursday, Sept. 25 versus Basic.
Women's Varsity Soccer
Riley Cable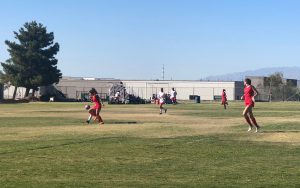 Last week, women's varsity soccer played Tech and won 6-1 at their home game on Thursday, September 20. Senior Alysa Caso scored two goals, and senior Leili Rosenberg who scored one goal. Savannah Vaughn, junior, scored one goal, and freshman Alexis Pashales scored two goals.
"This week we wanted to work on staying calm with the ball and having composure," sophomore Gianna Irungaray said. "In this game there was noticeable change in the way we played."
Women's soccer also had a game on Saturday, Sept. 22 against Clark High School. They dominated 9-0 at home Saturday morning. The Cougars will travel to Basic High School for their next game on Tuesday, Sept. 25.