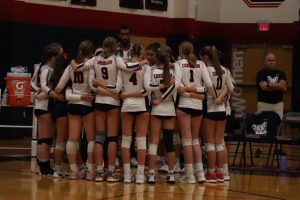 The Final Countdown// Huddled together during the final set, the girls give each other moral support. The pep-talk brought their confidence back onto the court, encouraging them to work together and eventually claim victory. (Photo by Jonathan Valenzuela)
Varsity Women's Volleyball
by Siena Howard
The Coronado Varsity Women's Volleyball team faced a unique opponent last Thursday, September 21st: Lone Peak High School from Highland, Utah. The Lone Peak Knights may be one of Utah's best ranked teams, but Coronado wasn't fazed, winning against them in an intense game that lasted five sets. 
Despite losing the first two sets, with scores of 25-27 and 16-25, Coronado bounced back with wins in the third and fourth sets, scoring 26-24 and 25-20. The game went to a tiebreaker set, which Coronado won 15-11. 
"I think the game started off slow, but the team worked together and were able to turn it around," volleyball Coach Beyah said. "It went pretty well by the end." 
The game moved quite quickly at the end, with Coronado's team working with synergy. Several digs were made by libero Tova Craig, who also received the most serves during the game. The Lone Peak Knights also hit several serves and spikes out during the tiebreaker, which allowed the Cougars to gain a lead that ultimately led them to victory against the Knights.
"Coming off their loss on Monday, I think they really got their mentality right so they could win the game," Beyah said. 
The Cougars will continue their competition season following the momentum of this victory, competing in large tournaments like the Durango Fall Classic and the Nike Tournament. Their next home game will be on October 5th against Arbor View High School at 6:00 PM. 
Women's Varsity Soccer
By Brianna Gracia
Coronado's Women's Varsity Soccer team tackled Palo Verde in a home game on Wednesday, September 25 at 4:30pm. The score was close, but the Cougars managed to win 2-1. 
"We were able to communicate and maintain calmness when things started to look bad for us," senior Camryn Piccininni said. "Our halftime break allowed us to talk things through with everybody, and once we were all on the same page, we managed to work together and score the needed goals." 
After Palo Verde made their first goal, things looked grim for the Women's Varsity Soccer team. Rather than letting their nerves get to them, the girls executed passing plays to maintain possession of the ball. After that, they were able to secure their win with multiple goals. 
The team proved their ability to strategize and play. What the game boiled down to was not athletic skill, but mindset and focus. The team agreed that intention and determination could make or break how they play. In the second half, senior Aubrey Wagner stole the game. Quickly, she scored a goal, tying the game. Rapidly after, she sent the ball colliding into the net again, earning another goal and taking the win home for Coronado. 
Despite this, the girls understand that there is always room for improvement. One wrong move can be the difference between victory and loss in any game, and it's important for the team to keep themselves sharp. 
"We can always improve our starting mindset," Piccininni said. "If we started the game with more intensity, maybe they wouldn't have scored that first goal on us. It's important that we stay mentally engaged throughout the entire game." 
Catch Coronado's Women's Varsity Soccer team at their next game against Bonanza at 4:30pm on Friday, September 29. 
Varsity Tennis 9/26
by Madeline Vernaci
On Tuesday, September 26th, Coronado's Men's and Women's Varsity Tennis teams played against Arbor View High School at home. In a tough competition, both the Men's and Women's teams won the majority of their matches, leaving Coronado with scores of 16-2 and 10-8, respectively.
"Me and my partner Mitch Seneviratne won our match 6-1, and we played pretty well while they missed a lot," Ishaan Shroff, 9, said. "I need to improve my serve for sure, but otherwise I think I did pretty well. My best shot is my forehand and I always hit that pretty well, so I'd say I'm proud of that." 
Coronado's Men's team won almost all their matches, but the Women's team had a tougher time fighting for the win. While there were setbacks, they performed exceptionally well and pulled ahead before the end of the matches.
"I lost my match, but not by much," Sofia Ciccolo, 12, said. "I plan to improve by practicing my shots more at practice, and I think I was really good at getting the ball back and being consistent."
After both teams won this week, Coronado's Tennis teams will play again against Clark in another home game on Thursday, September 28. Be sure to support your fellow Cougars throughout the rest of their season.
Cross-country Brief 
by Talia Medina 
The Cross-country team had a meeting on September 26 for both the men's and women's teams where they practiced beating their last meeting scores and preparing for their upcoming events.
"I felt good about the met," senior Gregory Wise said, "I feel that I can definitely run a bit faster but I do need to figure out some things first. Otherwise, it was a good race to practice our grouping and prepare for some bigger future races."
Unlike other sports, Cross-country students decide to train by having each one of their runners run to see how long it takes for them to get to the finish line and if they're able to beat their last time from the last meeting. However, even if sometimes they don't beat their last score, many cross-country runners keep their ambition going and look forward to later competitions for the season. 
"I feel that so far we haven't been the strongest this year," Wise said, "I believe with a lot of determination our team will improve a lot each meeting, I'm looking forward to regionals and help get our team to state."  
Many cross-country runners apart of the team spend countless hours after school preparing for their upcoming races with other schools as much as they can to reach goals that they have set for themselves this season so that when bigger competitions near, everyone feels prepared and enthusiastic to win. 
The Cross-country team will have their next meeting at Sonata on October 10th. 
Coronado Cougars v.s. Liberty Patriots – Women's Varsity Volleyball
By Mariska Roberts
Coronado Women's Varsity Volleyball claimed victory against Liberty High School on Wednesday, September 27 at their last home game before a tournament the following weekend. Throughout a total of four sets, the Cougars did not back down; they showed their opponents that they had put in the work to improve since their loss to Centennial the week prior.
"We came into the game knowing we had to show up and make as little errors as possible," said Rachel Schwartz, 11.
Set one and two resulted in a score of 25-11, Coronado's win. Despite the hollering crowd and intense ambiance, players on the bench were noticeably reserved. 
"We try to focus on staying calm throughout the match," Schwartz said. "The bench atmosphere really transfers onto the court. When things are getting tense, we try to bring a more comfortable vibe while still providing the support they need – especially when things are getting close."
Close is just one word to describe the third set of this match, with a score of 22-25. Although their winning streak ended in this set, the Cougars made sure the loss wouldn't bring them total failure. Despite a rocky first few plays, the girls remained determined to work with each other and ensure they minimized the potential for error. Many rigorous spikes were hit by Gentry Oblad and Julie Beckham, which led to such a proximate result.
"The main standouts were our outsides," Schwartz said. "They really focused on limiting the errors that would've ultimately taken us out of the game. They get about 80% of the balls that we set, so they really executed in consistently staying on top of that."
And on top they remained, scoring 25-16 on their fourth and final set. With a persevering attitude, the Cougars showed a great deal of sportsmanship and determination; staying on top of their game and maintaining pretentious maneuvers, they claimed their much-deserved victory.
"We've really been locking in on our serving and (serving) errors," Schwartz said. "I feel like that's really what made us stand out during the Liberty game today. We kept our serves consistent, I think we missed a total of 6 throughout the whole match. Our serve and pass game is really what kept us alive."
Dedication and teamwork paid off for the Cougars this Wednesday. The next home game will be Thursday, October 5th at 6 p.m. against Arbor View. Be sure to attend and support our team!