By James Williams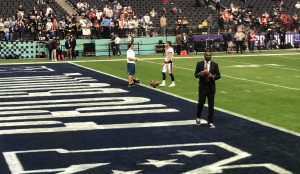 The NFL Pro Bowl this year took place at Allegiant Stadium in Las Vegas on Feb. 6, 2022. This is a special event where the NFL's best superstars compete against each other in their specific conferences. This year's Pro Bowl was generally well-received by fans.
"It was really cool seeing the Pro Bowl come to Las Vegas this year," senior Bridger Freeze said. "Seeing all the players in one spot was pretty cool."
The Pro Bowl is best known for its fan experience and how the players interact with them. There were 4 events that took place before the real game. The first was the Pro Bowl Skills Challenge. Some of the players were present for this event and competed in certain challenges such as "Thread the Needle" and "Dodgeball". The next 3 days would then be practice for the game and was where the players interacted with the fans the most. 
"My favorite part of the weekend was the player interaction," senior Erik Hurley said. "I was able to get players to sign my gear."
The player interaction was the fan-favorite within all the activities that took place. Players from both the American Football Conference and National Football Conference were out signing autographs for fans before, during and after each practice that happened. Patrick Mahomes (Kansas City Chiefs), Justin Herbert (Los Angeles Chargers), and Travis Kelce (Kansas City Chiefs) are just a few players to mention that took time to give back to their fans. Although some players were only signing in a certain section of the field, players such as Justin Jefferson (Minnesota Vikings), Russell Wilson (Seattle Seahawks), and Cameron Heyward (Pittsburgh Steelers) were signing for almost everyone that asked for an autograph from them.
"The game wasn't too entertaining in my opinion," senior Armen Festekijan said. "It was still a cool experience seeing all the players compete at one time."
The Pro Bowl is a place where the NFL's best can compete against each other. However, it's important to have the players be safe in this event and not have any injuries happen. Players and referees have agreed over the past few years that a light tackle or a two-hand touch would count as the player down. The game was a high-scoring game and it was a good experience for the fans. The AFC took down the NFC and won 41-35.