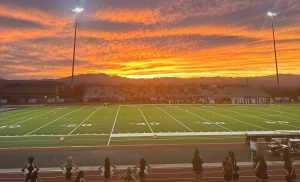 Let's go Cougars!// Cheering on the Varsity football team, the cheerleaders help the team stay encouraged. The sunset made the night feel even more magical before the festivities began. (Photo Courtesy of Brianna Garcia)
Homecoming Football Game
By Talia Medina 
Coronado's varsity football team had a home game on Friday, September 22nd, before the homecoming bash. The team pounced against Shadow Ridge and celebrated the night with their winning score of 28-14.
"I think that the game went really great," senior Matthew Hunt said, "It was definitely a good team win and made the homecoming night even better." 
While several members of the team felt that the game was thrilling and action-filled for everyone that went, some members of the group felt a bit anxious when it came to the game, since it was the team's biggest game of the season and felt that it had to perfectly wrap up the entirety of the night together perfectly.
"Honestly I did feel stressed about the game," Hunt said, "Being a football player and the team captain put a lot of pressure on me and the team, especially because it was homecoming day but, I felt that everyone worked hard that night and I'm really proud of the work that was put into it."
Coronado's varsity football team will pounce again with their upcoming game against Palo Verde on Friday September 29th at, 6 pm.
A close game to no prevail
by Sienna Nicholson
Starting off Coronado's booming homecoming week, the Varsity Women's Volleyball team went up against Centennial High School. While the game was close, stretched out to a fifth set, Coronado sadly lost the game with a final score of 8-15 in the last set.
"At the end of the day, we weren't as focused on the little things," Abigail Paulson, 12, explained. "That ultimately led to us making more errors and that was likely the main reason we lost."
The beginning two sets of the night were rough for the team as they were both lost. Many balls were just barely missed after intense rallies. While the first set was close with an ending score of 23-25, defeat was sadly much swifter in the following set with a score of 15-25.
However, despite such a difficult start, the team didn't back down. Both the third and fourth sets were won with scores of 25-15 and 25-13 as the Cougars hit harder and faster. Several spikes earned points, most notably from sophomore Julie Beckham who managed 20 spikes over the course of the night.
"I think that we're getting a lot better at working together as a team," Caitlyn Larson, 12, said. "There's been a lot of improvement and though there's still more to go I think this season is gonna be really good."
While the night was sadly lost in the final set, the team hasn't lost faith as they still have several more games to come and are planning to make a comeback. Their next game will be Wednesday, September 27th, where they will be fighting at home against Liberty High School. Make sure to cheer them on and watch as they play with high spirits.