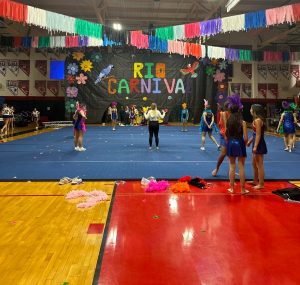 Coronado Carnaval
by Brianna Gracia 
It's that time of year: Homecoming week at Coronado. The theme is Rio Carnaval, and the school has been decked out in bright colors and festive decor in preparation for the event.

Students have varying opinions about the homecoming theme. Some are excited for such an exuberant theme. Others are curious how it is going to be interpreted. 
"The Rio Carnaval theme is so fun because it incorporates bright/vibrant colors that people can wear," senior Allie Ulmer said "Also, the songs from Rio are very recognizable and are fun to sing to!"  
With Homecoming rapidly approaching, school spirit is in full swing. This week has been filled with dress up days, events, and festivities. Anyone who participated in the spirit days was eligible for a prize during lunch. 
Today, students are buzzing about the highly anticipated Homecoming Assembly. It will showcase Cheer, Dance, and plenty of games/activities. Later, at 4pm, is the Tailgate, where students will be able to wreck the Homecoming car. 
"We are incorporating a different lighting system into our homecoming assembly instead of our usual black light," senior Allie Ulmer said.
No one can ignore the boisterous competitive energy that has been going around the past few days. Senior Homecoming Court candidates are eagerly campaigning, each working hard for the crown. With the buzz taking over the school, students are casting their votes. Who holds the lead remains to be seen.
"I really enjoy going to the games with my friends and hanging out at the dance," junior Ella Rodriguez said "I think the theme is cute – it's different!" 
Students who wish to attend must buy a ticket. At the door, they will be $25. The Homecoming Bash is sure to be a night of bright lights, music, and memories.