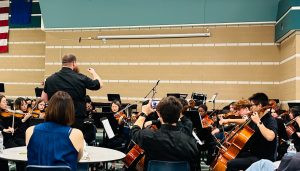 A convincing show // Playing for the crowd, Coronado's premier orchestra group performed a movement from Ernest Bloch's Concerto Grosso. The piece was an intense and beautiful one from the neoclassical period.
A night of music: Performing Arts hosts fundraising event 
by Siena Howard 
Coronado's performing arts department hosted a special dinner with performances from band, choir, and orchestra on Wednesday, September 13th. The night raised funds for the students' cross-country trips and other expenses. 
Beginning at 7:00, families, teachers, and Coronado students filed into the cafeteria where they were greeted by catering from Ventano's. As guests enjoyed the Italian cuisine, each performing group performed short sets. Some highlights of the night included band delighting the audience with a folksy performance of Holst's "Second Suite", choir showcasing their Italian knowledge with "Fa una canzona", and orchestra playing the enchanting "Prelude from Concerto Grosso".  
"It was such a wonderful experience," junior Kara Hughes said. "We were treated to a night full of food, fun, and entertainment. Whatever expectations I did have, everyone not only exceeded them but got me so excited for what's to come." 
The fundraiser was spawned in an effort to raise money for the exciting opportunities performing arts groups have this year. Coronado's top wind ensemble and orchestra will be traveling to New York City and performing at the prestigious Carnegie Hall in March 2024. Additionally, all choirs and theatre classes will be able to perform and participate in workshops at Disneyland in April. Some of the money raised will also go to equipment upgrades, such as new risers for the choir. These unique opportunities make for a thrilling school year for performing arts students. 
The fundraising night was very successful. With around 150 attendees, the event raised 4000 dollars in tickets alone. The band's silent auction helped to produce an additional 2700 dollars for the program. After the success of this event, there will definitely be more joint efforts in the future. 
"We thought it went very well," band director Mr. Matthews said. "After it was finished and we were all done cleaning up, Mr. Thomas, Mr. Fleischer and I stayed after and just talked about what we can do to make it bigger and better next year." 
Performing Arts students also got to listen to each other's performances, a typically rare experience as each group is so busy. It's not very often that the entire performing arts department collaborates together, but when they do, students seem to enjoy it a lot. 
"All of the performances went well," choir student Elle Maciag, 12, said. "It was nice to hear everyone. I think it created a lot of enthusiasm for the rest of this year." 
The event was just one of the many fundraising initiatives that Coronado's Performing Artists have planned. Soon, students will begin selling chocolate and other commodities. Orchestra also has three performance gigs throughout the second quarter, where ticket proceeds will pay for part of their Carnegie Hall trip. 
Additionally, the department is holding donation drives online. The drives for Choir and Band will remain open until October 1st.