By Ainsley Davis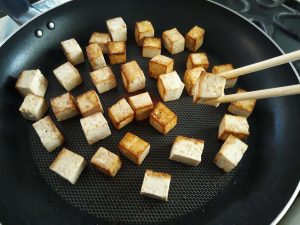 Despite its health benefits and versatility, tofu often has a bad reputation. Some dislike it because they've never had it cooked properly, missing out on benefits like protein, calcium, and iron. Although it is an amazing source of nutrients for vegetarians and vegans, anyone can enjoy the benefits and tastiness of tofu with these vegan and gluten free recipes.
Simple Soy Sauce Tofu
1 14 oz package tofu

2 tbsp soy sauce

1 tbsp sesame oil
This three-ingredient recipe is easy and delicious. It's also vegan and gluten free. First, pat the tofu dry with a clean kitchen towel, then cut into half inch cubes. Combine the soy sauce and sesame oil in a small bowl, and heat a nonstick pan over medium heat. As the pan heats up, dip the tofu cubes into the sauce and make sure they're completely coated. Using chopsticks or a fork, place the tofu on the pan and wait two to three minutes and flip it, repeating the process until all four sides are crispy. Enjoy alone or with white or brown rice. This recipe also works with the baking method in the next recipe.
Spicy Sriracha tofu
1 package tofu

½ tbsp olive oil

2 tbsp soy sauce

1 ½ tbsp sriracha
For the more adventurous, this tofu packs a spicy punch. Before preparing the tofu, heat the oven to 350℉. Pat the tofu dry with a clean towel. Cut the tofu into ¼ inch thick strips. Next, cut these strips into four equal pieces. Mix the rest of the ingredients together in a small bowl and dip the tofu in, coating both sides. Place the tofu on a nonstick cookie sheet, evenly spread apart, and bake for 20 minutes, flipping halfway through. As the tofu is baking, check on it a few times to make sure it's not burning. Each oven is different, and the tofu may take more or less time to cook. Although delicious alone, this tofu pairs well with white rice, red peppers, or rice noodles. This recipe can also be cooked in a pan, following the instructions in the previous recipe.
Breakfast Scramble
1 14 oz package tofu

1 tsp turmeric

½ tbsp olive oil

Salt and pepper to taste

½ tsp garlic powder

¼ tsp onion powder
Lower in cholesterol, tofu can replace eggs in your morning scramble. First, pat the tofu dry with a clean towel and place in a bowl, using a fork (or clean hands) to mash. Mix in seasonings and pour the olive oil into a nonstick pan. Over medium heat, cook the tofu for five to to 10 minutes, until it begins to brown. This scramble goes well with potatoes, toast, or a few slices of vegan bacon. You can add veggies like mushrooms, spinach, or tomatoes to the scramble before cooking.
Tofu Tacos
1 14 oz package tofu

1 packet taco seasoning

1 tbsp olive oil
Crumbled tofu can be used as a replacement for ground beef in recipes. This recipe uses taco seasoning, but other spice blends can be used depending on the recipe you're adding it to.To give the tofu the texture of ground beef, freeze it in its packaging for at least 24 hours before you plan to eat, then allow it to defrost. Open the package and drain the tofu in a strainer, squeezing it with your hands, then rinse the tofu and squeeze the water out again. Repeat this step several times, until the water running out is clear, then crumble it into a bowl. Mix the olive oil and two to four of tbsp taco seasoning into the crumbled tofu. In a nonstick pan, cook the tofu over medium heat for five to 10 minutes. Place in taco shells or tortillas along with your favorite taco add-ins.
Whether you're vegetarian, vegan, a meat-lover, or somewhere in the middle, the right recipes can turn tofu into a flavorful substitute for meat or a delicious dish of its own.