By Angeli LaGuardia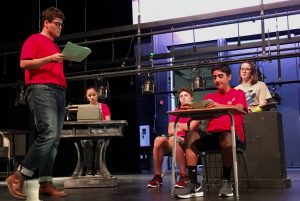 The theatre department is set to showcase "The Night of January 16th" on Tuesday, Oct. 9. The interactive play runs through Oct. 11, giving the cast three opportunities to perform.
"I think the most exciting thing about the play, besides it being interactive, is that the audience gets to develop their own opinions on who is guilty or innocent," Josh Rabes, senior, said. "The play is bound to entertain everyone, it's suspenseful, comedic, and thought provoking."
Auditions began Aug. 21, where students had a five-minute time slot to perform one comedic monologue, and one dramatic monologue in order to showcase their talents. After monologues, Mr. Torres, Coronado's new theatre teacher, held callbacks where students, as a group, ran lines for the first time from the script. Mr. Torres announced the cast list the next day and rehearsals started immediately following its release.
"I think what makes a successful play is practice," Mackenzie Lefler, junior, said. "I sometimes ask to run lines with my siblings because it's important to make connections with not only my character, but with others. There is no right or wrong natural ability for character representation, it all depends on interpretation of characters. My character is used for comedic relief and humor, where I can embody my character freely and lose myself in acting."
Written by Ayn Rand, "The Night of January 16th" takes place in the late 1800s, following a jury trial under secretary Karen Andre, played by senior Sofia Virden, for the murder of businessman Bjorn Faulkner. As an interactive play, some of the cast will be performing not only on stage, but within the rows and seats of the audience. The audience has the option to take part in a raffle before the show, winners being rewarded by becoming a part of the jury. The audience's role in the show affects the overall outcome, meaning that each show can have a different ending. Actors rehearse three hours every day to ensure a promising performance.
"It's really important when casting a group of people together to make sure that they all work cohesively together,"  Abby Truman, assistant director, said. "The cast dynamic for this year's fall play has great chemistry. Establishing relationships with the cast is what allows the scenes to run smoothly."
The rehearsal process starts with reading through notes from previous rehearsals, allowing the cast to adapt to suggestions from Mr. Torres and his student director. Following these notes, actors edit their performances, and then run through lines.
"I can't wait for the audience to watch and be apart of the play," senior Olivia Oh said. "I can't wait for them to see the costumes, the set, the props; the final product will be even better than how we're envisioning it now."