By Izzie Thornley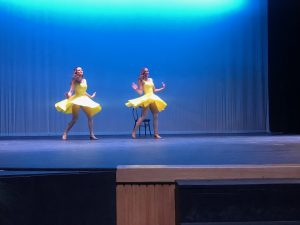 JV and varsity dance teams and dance classes performed at the Dancing Through the Decades showcase on Thursday, Nov. 29 and Friday, Nov. 30 in the theater to prepare and raise money for competition season.
Students taking dance class as an elective this year performed a group number with their class period. They practiced during their classes throughout the month of November.
"I was a little nervous since it was my first dance performance, but it was also really exciting," sophomore Nicole Walsh said. "The crowd had a lot of energy which made performing less stressful; It was an amazing experience."
The dance teams, both varsity and JV, started preparing for the showcase after the last football game of this year. The team separated into different levels and grades, creating various dance numbers relating to a distinct decade.
"I performed a group number to songs from 2000 to 2010," sophomore Karsten West said. "It was fun getting to work with JV members in my grade, and it helped us bond before we start competing."
Several Cougarettes also performed solos and duets. These dances were imbedded between the group numbers.
"My partner, Alexa Farber [freshman], really likes the movie 'La La Land,' so that's what we decided to theme our duet," freshman Rylie Waldron said. "It took us a week to finish choreographing, and I ended up absolutely loving it. Performing is definitely more fun when both partners enjoy what they're doing."
At the end of both nights, all proceeds earned went towards costumes and other necessities for competition season.
"Since the dance program isn't funded by the school, we already pay to be on the team monthly," sophomore Danika Humphres said. "This showcase gave us another chance to fundraise and get out our nerves before competition season starts."