By Ryan Kelleher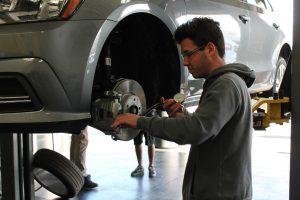 Eight Coronado auto shop students competed at the SkillsUSA Southern Regional Automotive Tournament on Saturday, Feb. 9 at Findlay Volkswagen. Senior Randall Cowles placed third at regionals and advances to the state competition in Reno which take place Tuesday, April 9 to Friday, April 12.
"I did not expect to place third on Saturday," Cowles said. "I was confident I could advance to state, but I was surprised to earn third. Some of the tasks we had to complete were really tough, and I was shaky on what I was doing."
Along with a guaranteed spot at the state competition, Cowles won various automotive prizes including tools, clothes and a $1,000 scholarship to Universal Technical Institute (UTI). Seniors Preston Wilczynski and Maria Early also secured a spot in the state tournament, as well as juniors Jackson Roberts and Ryan Fitzpatrick. In the upcoming months, students will prepare by practicing and reviewing auto concepts.
"I am so proud of all my students who participated," Ms. Smith said. "I was not expecting to have five students advance to state. Maria Early is also my first female student to ever attend state."
To qualify for the regional tournament, roughly 150 Auto Tech students across the state took a 88 question exam to prove their skills and knowledge of automobiles. Only 20 students in the whole region advance with eight of them being from Coronado. At regionals, participants received grades based on their ability to identify parts of an engine, label tools and other automotive tasks. In Reno, state-bound students will face a variety of new and unique tasks.  
"We are going to review and learn as much as we can in the time before state," Fitzpatrick said. "I'm sure the nerves will settle in when we get closer to state, but for now, I'm excited."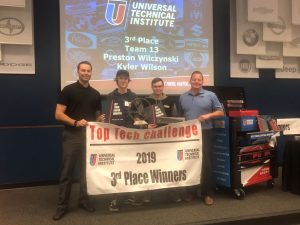 Wilczynski and fellow senior Kyler Wilson placed third out of 31 teams at the 2019 UTI Top Tech Challenge in Avondale, Arizona on Saturday, Feb. 2. For earning third, the duo won Snap-on tools for Coronado's auto shop program and $5,000 scholarships to UTI.
"I went into the competition just wanting to have fun," Wilson said. "It was a great experience for everyone who participated. We owe our success to Ms. Smith because of how well she taught us."