By Izzie Thornley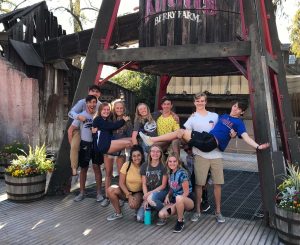 The men's and women's swim teams traveled to Walnut, California March 15 to compete at the 2019 High School Winterfest Championship meet and to bond as a team before their competition season begins. The team left at 6:30 a.m., arriving for the start of varsity prelims at 2:00 p.m.
"I think swimming varsity allowed me to train and prepare for the rest of the season," freshman Elisa Vaher said. "In the future, I will look back at my swim as a lesson on what I need to correct in order to achieve my goals."
On Saturday, JV competitors left the Holiday Inn for the pool at 6:30 a.m. to get into the water for warm-ups. JV started the day off swimming the 200 medley relay. JV timed finals started at 8:30 a.m. and ended at 2:00 p.m.
"The JV meet was really cold in the morning, but we still had to warm-up," sophomore Hansen Chang said. "Once it got warm, it started, and everyone dropped a lot of time."
The top 27 swimmers for each event from varsity prelims competed in the varsity finals directly after the JV competition. They competed from 3:00 p.m. to 7:00 p.m. The men's team placed tenth overall while the women's team placed sixth.
"It's an amazing feeling to place this high," senior Katie Jankowski said. "We haven't placed this high at Walnut for a very long time."
Following the meets, swimmers spent time bonding at Knott's Berry Farm on Sunday, March 17. They rode rides, explored the park and then boarded the bus to take them home.
"This team bonding experience is something I wouldn't miss for the world," sophomore Vanessa Soltysek said. "It is a great time to get to know the members of our team and have fun at Knott's Berry Farm."