By Kiley Brown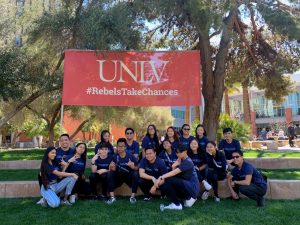 Key Club attended the Las Vegas Dance Marathon (LVDM) at the UNLV Student Union from 11:00 a.m. to 8:00 p.m. on Saturday, March 16. Over 1,000 students from different high schools and colleges in Nevada raised nearly $39,000. All money raised goes toward St. Rose Children's Miracle Network (CMN).
"The goal is to stand or dance for all eight hours of the event in honor for children who are not able to," senior representative of Key Club Madison Chia said. "The event is very successful and enjoyable. It's nice to meet other Key Clubbers from the state and to dance and sing with them."
Key Club is one of CMN's partner organizations, and it is led by students, for students. CMN gives clubs from different schools a chance to come together and raise money for the network.
"It was my second year attending, so I had very high expectations," sophomore Fiona Dimalig, Key Club secretary, said. "You could hear the bass vibrate the floor from the first floor and that got everyone super excited."
Well-known dance groups such as Sodality, Sugoiers, Meccame, Apostles, CorpMob and others from around the area performed. Most groups in attendance were official teams that prepared in advance while some cultural teams such as Polynesian and K-Pop groups attended.
"Considering the fact that attendance increased from 800 people to 1,100, it was surely crowded, but the dance floor only got way more fun," junior Sebastian Cabrera, SAA of Key Club, said. "Although I went with a group of friends, I found myself dancing with people I've never seen before. I was really sore the next day, but LVDM 2019 was one for the books. I only look forward to what LVDM 2020 will bring for us."