By Kiley Brown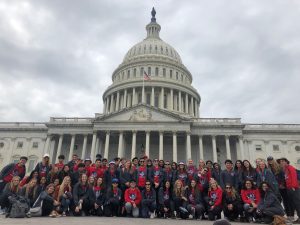 To reinforce some of what they learned this year, AP Government students traveled to Arlington, Virginia and Washington D.C. from April 11 to 15. 60 senior students attended the trip.
"The first day we went on a bike tour," senior Jake Christensen said. "That was probably my favorite part since we got to see the national monuments. I am also  glad I got to room with my friends and see a lot of beautiful scenery with my girlfriend."
Students got to meet with Senator Catherine Cortez Masto and Senator Jacky Rosen. One of Coronado's former students, Zil Joyce Dixon Romero, is currently an intern in Cortez Masto's office, and he introduced the group to the senators and helped lead a tour around the Capitol building.
"I would say my favorite part was making new friends and learning more about American history," senior Josi Nyguen said. "It helped me see the bigger picture, and it all made so much more sense when you see everything in person."
Students also saw the Library of Congress and Supreme Court on Saturday, April 13 and Arlington National Cemetery and Tomb of the Unknown Soldier on Sunday, April 14.
"It is always beneficial to enhance what they have been learning about with regards to social studies the last few years," AP Government teacher Mr. Giusto said. "This year was particularly great because they got to meet both our senators."