By Roby Tan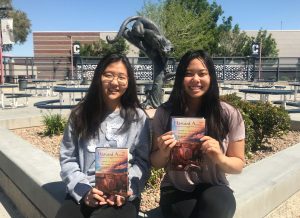 Juniors Demi Lee and Dana Oshiro were selected to receive this year's Harvard Prize Book Award on Wednesday, April 24. "Outstanding Students Displaying Excellence in Scholarship and High Character."
Harvard alumni selected candidates from all over the world who fit the general criteria of high character. Students who excel in multiple areas, such as academics and extracurriculars, are more likely to be selected. The Prize Book encourages students to apply for Ivy League schools such as Harvard University, and it guides them towards courses that they can pursue in college.
For interested students, the application process consists of submitting their transcripts and having a GPA of 3.75 or higher. Students are also required to write an essay on their background or an activity they couldn't live without. For Demi, it's violin and debate tournaments while Dana has a passion for gymnastics. The awards are typically announced at high school graduations or award ceremonies.
Dana's parents, Andrew and Vicki Oshiro, both graduated from Harvard, so they are familiar with the requirements. They supported and walked her through the application process.
"I put so much work into getting accepted, so of course I felt a rush of excitement when I found out I was selected," Oshiro said. "I didn't have a certain reason why I applied. I just wanted to see if I could get in to feel a sense of achievement. My parents were very excited when they found out, and they were supportive all the way. They read over my essay, and they gave me tips from their own application process."
Lee also wanted to see if she could get into Harvard, and her parents helped her with the submission process through optimism and good spirit.
"I felt ecstatic when I got the email that I was selected for the Harvard Prize Book," Demi said. "I worked hard to be where I am today, and I've decided to apply next year and just go for it. I am grateful for my parents because without them driving me to all my extracurriculars and supporting me in the audiences at my violin concerts and debate tournaments, I probably would have given up and not persevered through all the obstacles I have encountered."
Demi's parents, Kelly and Phillip Lee, were also thrilled by the news of their daughter being one of the few chosen. Both students plan to apply to Harvard for college, and they receive bountiful support from parents.
"We are always pleased and supportive with all of Demi's achievements and endeavors," Kelly Lee said. "Even in times of failure, we never dwell on her mistakes, but instead, we cheer her up in any way possible."