By Kiley Brown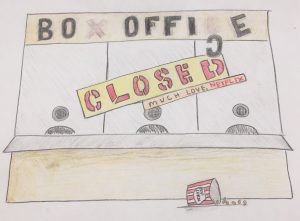 With the various streaming services available nowadays, it's tempting to stay snuggled up at home for hours on end watching Netflix or Hulu. It would not be surprising if movie theaters disappear altogether. Technology is constantly advancing, and movie theaters probably will too.
The first movie theater ever opened was in Pittsburgh, Pennsylvania in 1905. The reality is that our future generation will never experience the moments leading up to watching their first movie in a theater. Now, it seems as if streaming apps are constantly being made with services such as Apple TV, Amazon Prime, and soon to come Disney+.
Many choose to stay at home because it is more convenient and saves money. Having a movie night is even a tradition in some families. The most prominent streaming services continue to add appealing shows and movies, enticing many to stick with their streaming plan. Preparing snacks and staying in is a benefit for those wanting to stay in the comfort of their own home.
A night out at the movies can end up being very costly, from tickets ranging from $8 to $9 and a small popcorn from $6 to $7. Attempting to be similar to streaming services, Regal cinemas has even released a monthly subscription plan, where customers can pay $18 to $23.50 a month to see as many movies as they want (depending on their location). AMC theaters, the largest movie chain, also allow moviegoers to see three movies a week for $20 to $24 a month (depending on their location). Cinemark offers one free ticket a month, along with discounts on concessions and other perks.
Being surrounded by other fans enhances the experience, and well-known series' and popular movies take a while to show up on apps, and when they do, they are most likely recorded on a bad quality camera with the sounds from the theater. By the time it is released on an app, spoilers have most likely been heard about.
Whether or not movie theaters are appealing, sometimes having the opportunity to go to the movie theaters allows us to escape technology. Going to the movies may even bring families closer together, making the outgoing to the theaters a family favorite.