By Isaac Anwar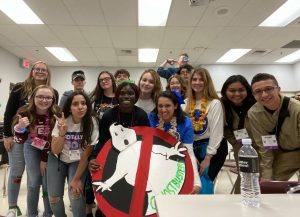 Student Council attended their annual Zone Conference on Saturday, Feb. 1 at Faith Lutheran High School. This year the event was 80's themed, so the 80's culture was spread throughout the school and leadership classes. Held by Nevada Association of Student Council (NASC), Zone is an opportunity for Student Council members from across Southern Nevada to learn new leadership skills.
"Zone was phenomenal this year, and the theme was super fun," junior Sophie Draayer said. "It was so organized and really got the best of the best to help NASC really shine and build great leaders." 
Zone also serves as an opportunity for StuCo members to share and receive ideas with other students around southern Nevada. Students can also take their leadership to new levels by offering to lead roundtables, workshops and be a junior counselor. Divided by grade level, students go in search of new skills and techniques to bring back to their own schools. 
"My first Zone was really fun," sophomore Reese Judd said. "I loved meeting other councils and getting to hear about their events and spirit weeks. I also learned some tips we can use to improve our council which was amazing." 
Student lead discussions begin at the sophomore level. There, sophomores can teach five minute, quick-fire discussions based on a topic of their expertise. Juniors take it to the next level with workshops which are hour long presentations designed to teach a complex topic to someone with little to no experience. Workshops are meant to find the deeper leadership skills behind the topic picked. Seniors have the biggest challenge; becoming a junior counselor (JC). JCs lead a small group of students all from different high schools, guide their groups through Zone and have fun activities and leadership games throughout.
"Being a JC had been my goal since my first zone freshman year," senior Baylee Boren, student body vice president, said. "It makes the whole conference mean more to me, because I am caring for other kids instead of being cared for in years past."