By Isabella Burnette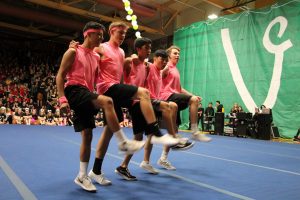 Boys of any grade can now go to the student council room to pick up a participant form for their class' boy band group. All four boy bands will perform in a competition at the Spring Assembly on Friday, March 27. Applications can be picked up and returned to the Student Council room, room 503, anytime from now to 2:15 pm on Friday, Feb. 14th. 
"Boy band has been going on for as long as I've worked at Coronado." Stuco advisor Mrs. Swenson said. "It's a way to highlight the senior boys and give students something fun to look forward to."
All boy bands are required to rehearse at least 4 times aside from the mandatory rehearsal the day before the assembly. Boys must sign on the form saying they will attend these rehearsals and understand the commitment of being part of the band. A guardian must also sign the form to confirm their sons health and commitment.
"The boys in the bands actually do have to put a lot of work into their routines for them to come out good, but it's totally worth it in the end." sophomore Reese Judd said. "It's personally my favorite thing we do at the assemblies."
Each class' boy band will make up their own dance to perform with help from the Cougarettes that are in their class. Boys have the freedom of creating their own routine as long as it is school appropriate and will not result in any injuries. All parts of the routine and music must be approved by Mrs. Barlow by Tuesday, March 10, and any violation of the rules can result in removal from the group or even suspension.
"My favorite part was probably falling on my face at rehearsal last year in front of everyone." sophomore Spencer Brock said. "Overall, it was a pretty fun experience, and I'm glad I did it."