By Isaac Anwar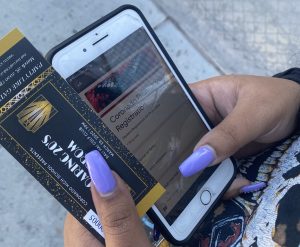 Upperclassmen can buy prom tickets now in the quad by the front stairs. Tickets will begin at $20 and rise $10 every week until Prom and then $60 at the door. Prom will be held Saturday, March 28 at Bali Hai Golf Club from 7-10 p.m.
"Prom is the biggest event the junior class plans, and I think this year will be the best one yet," junior class treasurer Alyssa Marquez said. "We have really taken notes on what has and hasn't worked in the past and applied it to this year."
Prom will be Roaring 20s theme, taking inspiration from The Great Gatsby, music and decor will be based around the 1920s. When buying a ticket you will have to present your student ID to the table. Once tickets are purchased you are required to fill out a google form that will be accessed during check-in at prom. Make sure to hold onto your tickets because if lost you will have to purchase another one on prom night. Prom tickets are also available from any junior Student Council member. 
"I think all of our hard work is really gonna pay off and I am super excited to see how the students will react to the dance," junior Bennett DeBry said.