By Maya Fankulewski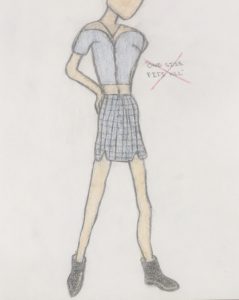 Teens are crazy about Brandy Melville, the trendy and expensive store found throughout big cities including New York, Los Angeles and San Francisco. The Italian business produces stylish crop tops, oversized hoodies and mom jeans for their teen market; however, Brandy (the company's internet-given nickname) asserts a "one-size-fits-all" policy. By only manufacturing petite sizes, Brandy Melville subtly body shames young girls into believing that the only way to "fit in" is to squeeze themselves into these tiny outfits while also squeezing their confidence levels to an all-time low.
Brandy Melville is one of the only stores out there to offer one size of clothing nowadays, and that clothing is considered an extra small. Sure, on rare occasions, there are "larger" items up for grabs, but they are meant to look oversized on size zero models, not well-fitting on literally any size above that. The store's oversized top selection is not for different body sizes, but instead for miniature girls to give off the comfy and cute vibe everyone seeks after. It's obvious that Brandy Melville's models take part in extreme diets and workouts to keep up with such high body standards, yet the store's average market of 11 to 18 year-old girls are clueless. These prime years of a young woman's life are overruled by emotions and hormones that affect self-confidence along with self-worth. By placing immense pressure on these girls to conform to their peers, companies like Brandy are taking advantage of their market to earn some extra cash; they have no problem adding even more to a teen's list of insecurities.
In addition, most of Brandy Melville's employees and models are Caucasian. Besides the one store in China, Brandy locations are in America, Europe and Australia, all predominantly Caucasian-based countries. In this day and age, it's important to include diversity, especially in popular businesses. All races should feel welcomed, not out-of-place, especially in locations based off of customer satisfaction. As mentioned before, girls already struggle with their body-image at this time, so why should they have to worry about their skin color, too? Only including skinny Caucasian girls in ads might seem necessary to Brandy's marketing strategy, but it illustrates a deeper issue in society and plummets the self-esteem of thousands of girls all over the world who wonder why they don't resemble the models on their phone screen.
Not only discrediting other body types and races, Brandy Melville is a multi-million dollar company that persuades customers into overpaying for their basic designs. Their clothes are expensive, yet, for a fact, it's cheap for the store to produce the clothing. For example, a plain sweatshirt or a pair of jeans can cost up to $45 each although each can be manufactured for less than five dollars. Depending on how far the store is from your location, shipping can cost up to $50. Along with making potential customers feel miserable about their body type, some might feel even worse for not being able to afford stylish clothing. It's easy to dismiss the idea of being insecure about one's financial situation, but plenty of teens deal with these problems daily. Since shopping at Brandy Melville is pricey, girls who wear these clothes appear rich and snobbish, and those who don't own the clothing seem poor and unworthy of "fitting in."
Brandy Melville yearns to see a certain type of crowd in their stores to keep up with their uptight ego. The lack of size options, racial stereotypes and expensive prices make the store offensive and overall outdated. Even with all these exclusions, people continue to shop at the disagreeable store due to the desire to conform. Brandy Melville knows that they are discriminating against different body types, ethnicities and ruining thousands of young girls' confidence, yet they don't show any effort to change. This uptight store chooses self-image over their customers' self esteem, and that's just wrong.