By Aubree Gearhart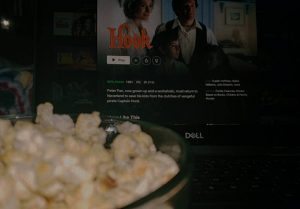 The definition of a good movie and a bad movie is different for everyone. For some it may be a light-hearted comedy, and for others it may be an action packed sci-fi movie. Luckily, there's a good mix of "comfort" or "feel-good" movies in this list, and there's something for everyone.
In this *blah blah film* three friends, Roberta Martin (Rosie O'Donnell), Samantha Albertson (Demi Moore) and Tina "Teeny" Tercell (Melanie Griffith) return to home and reunite with their childhood friend Chrissy Dewitt Williams (Rita Wilson). The four childhood and lifelong friends share and reflect upon their memories of the summer their younger selves grew up: the extremely unforgettable summer of 1970. 
When middle aged Peter Banning's (Robin Williams) children are abducted by his arch nemesis Captain Hook (Dustin Hoffman), Peter must return to his magical origins and reclaim his name of Peter Pan and revisit the past life in Neverland, where he had left Tinkerbell (Julia Roberts) and the Lost Boys to fend for themselves. The old gang may not be too happy to see Peter given their resentment towards him for growing up and leaving Neverland. 
Foster child Roger (Joseph Gordon-Levitt) is extremely fond of the Anaheim Angels despite them being the absolute worst team in the major leagues. Roger's distant father promises to reunite his family if the Angels make it to the world series. So clearly, Roger decides to ask for divine help and prays that his beloved team will turn things around. To his surprise, an actual angel named Al (Cristopher Lloyd) comes in response to Roger's prayers, and the hopeless Anaheim coach (Danny Glover) is surprised to see his team on a winning streak. 
The Fast and the Furious: Tokyo Drift (2006) 
Sean Boswell (Lucas Black) has always felt like the outsider, yet he illistruates himself through his victories as a street racer. Unfortunately, his hobby deems him unpopular with the legal authorities, so to get himself out of a situation with the law, he moves to Japan to live with his father. Once Sean arrives in Japan, he feels even more alienated. Then he learns about the exciting, yet dangerous new style of the sport. The stakes begin to rise when Sean challenges the local champion and falls for his opponent's girlfriend. 
This film revolves around Ignacio a.k.a. Nacho (Jack Black) while he works as a cook in a Mexican monastery where he was born and raised. The monastery is also home to a host of orphans which Nacho deeply cares for, but sadly there is not much money to properly feed them. Given the situation, Nacho decides to take it upon himself to raise money for the orphans by starring as a Lucha Libre wrestler along with his partner Esqueleto (Hector Jimenez). Since the church forbids Lucha, Nacho has to hide his identity in order to raise the money. 
From the heart-warming Disney movies, to the action packed Fast and Furious films there are many different movies that can be classified as "comfort movies". There's something out there for everyone, so sit back, relax and enjoy.