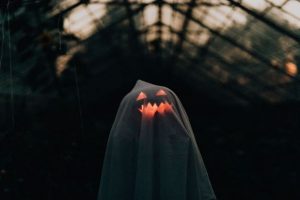 by Tainá Queiroz Fonseca
Halloween is the one night a year when people can dress like total geeks and no one can say anything about it. Well, at least no one says anything to their faces. There are a variety of unique Halloween costumes that make an appearance every year on October 31st, but there are always the highly overused and frankly annoying costumes to offset the creativity. Remember those inflatable T-Rex costumes from 2016? Thousands of people are still wearing the immensely dull costume years after their prime time.  
The abundance of movies and TV shows that came out between last Halloween and this Halloween will be a primary factor in which costumes will be popular this season, which is why 2022 is different from the rest. After researching the latest trends, here are my 2022 popular Halloween costume predictions:
Stranger Things (Eddie Munson)
If you haven't heard of Stranger Things, then you are most definitely living under a rock. The show's initial season aired on Netflix in 2016, and within 35 days of release, it was watched by 4.07 million people. With the recent release of season 4, viewers' total binging time was a total of 1.15 billion hours! On social media platforms, such as Tik Tok, the hashtags "strangerthings" has been viewed 114.0 billion times, and the hashtag: "eddiemunson" has over 35 million views. With these impressive rates, there is no doubt that eleven and her crew will make an appearance on Halloween night. 
The House of the Dragon series on HBO Max is a prequel to the famous Game of Thrones series. Episode one was released on August 21st, bringing in 9.99 million viewers that Sunday alone. The fans have viewed House of the Dragon related videos on Tik Tok 5.5 billion times, and it is one of the most recent trending searches. Notable characters such as princess Rhaenyra Targaryen are sure to be looming around the streets Halloween night. Her costume includes a stylish black and dark red dress, silver braided hair, and ruby red jewelry, so you'll definitely look stunning. 
That's right, the early 2000's, also known as "y2k" is making its comeback, especially with the most intriguing Bratz Dolls. Y2k fashion has become increasingly popular amongst teenagers and other younger generations. Bratz dolls came out in 2001, and following this, they released a show in 2005. The show follows four high school girls who own a fashion magazine "Bratz." Low-rise jeans, bedazzled phones, and phone charms are all the rage, so it wouldn't be shocking to see fans dressing up as the remarkable Yasmin, Cloe, Sasha, and Jade. After all, these girls have a 'passion for fashion'.
Harry Styles From "Love On Tour 2022"
It's not even Halloween yet and people are already dressing up as the beloved singer Harry Styles. Harry Styles is known for his 70's-inspired clothes and fabulous feather boas, not to mention his colorful array of three-piece suits and jumpsuits with flared bell bottoms are a hit among his fans. Harry himself has held his place as a trending hashtag on Tik Tok with over 68 billion views. Some fans have even referred to Styles as the "best-dressed artist of our generation." Jumpsuits and feathers and flare, Oh my! No wonder fans want to follow in Harry's fashionable pursuits this special October night.
Maddie and Cassie from Euphoria
Another hit show, Euphoria, released its second season on January 9th, 2022. Their makeup features won them "Outstanding Contemporary Makeup (Non-Prosthetic)" in 2020 and "Outstanding Contemporary Makeup (Non-Prosthetic)" in 2022. Social media trends involving recreating the show's makeup looks have been around since the first season's release in 2019. Two of the main characters, Maddie and Cassie, have been praised for their iconic looks throughout the show, especially their teal and black cheerleading outfits for the fictitious school East Highland High School. Whoever plans to dress as these characters better be prepared to live up to the show's unique looks and high expectations. 
Halloween is the time to express yourself and bring out your inner geek. Take these costumes as suggestions or warnings when choosing who to dress up as for Halloween. Either way, show up, stand out, and rock your fit!