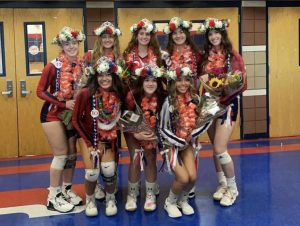 by Jordyn Tribus
Coronado women's volleyball dedicated their Thursday, October 20th game against Green Valley to their graduating seniors. Posters were made and speeches were given to describe how impactful the girls have been to the team. They were able to bring home yet another win, especially for their seniors. 
"Senior night was so incredibly special for all of us," senior Camdyn Carpenter said. "The unity and love this team has is shown through everything we do, on and off the court."
As for the physical game, the Coronado Cougars won their three matches in a landslide. Their combinations of setting and spiking the ball were unmatched by the Green Valley Gators.  Not only did they shine on offense, but they also put in a valiant effort towards their defensive blocking. The sets were recorded respectively: 25-12, 25-12, 25-18. These magnificent scores allowed the Cougars to finish their last home league game with a bang. 
"Having a game after our very emotional senior night, caused our love to be very strong," senior Jaiden Perez said. 
Coronado will take to the Arbor View court on Monday, October 24th at 6pm.