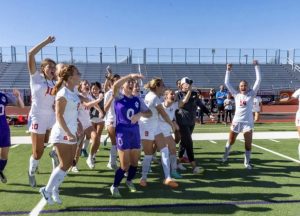 Jumping for joy// Flying off the ground, the Women's Varsity soccer team celebrates their State Champion title. The Cougars faced off against the Faith Lutheran Crusaders in a tight game which ended with the Cougars winning 2-1. (Photo Courtesy of Keri321 Photography)
Varsity women's soccer semifinals and finals
by Madeline Vernaci
After winning their last game against Arbor View on November 2nd, Coronado's Women's Varsity soccer team had ample time to prepare for the next round of playoffs. They met their next competition head on, beating Bishop Gormon with a score of 1-0 in semifinals on Friday, November 10, easily making their way to the final round of the championship. In the final game, Coronado's Women's soccer team beat Faith Lutheran with a score of 2-1 on Saturday, November 11, officially crowning them as champions of the 2023 NIAA Girls State Soccer Playoffs.
"We practiced all week to prepare," senior Camryn Piccininni said. "We mainly focused on possession in tight spaces, clearing the ball in a panic, winning the ball out of the air, penalties, one-v-ones to goal, and we watched our old videos of the games we played against Gorman and Faith to take note of all the things they did and the players that were especially dangerous." 
In the second half, the Cougars scored the winning point, a goal scored by Ryan Neel with Sierah McCallum as an assist. They hadn't allowed Bishop Gorman to score a single goal in the first half, and continued that streak into the second half, guaranteeing them the win that would follow on Saturday.
"Going into the games, we were nervous, but by the second game we got all the nerves out," senior Sierah McCallum said. "I knew that both games were going to be tough, and could end up a win or loss for us. I felt that we worked hard for that win and deserved it. These were the games we have been preparing for all season. I'm glad we got to take back our trophy from the team that beat us last year."
Nerves were common among players as they headed into the final round. Coronado had tied and lost to Faith Lutheran's team in the last two conference games they played against them, so they were the underdogs heading into this final game. Fortunately, with teamwork and careful, honed skill, the Cougars were able to finish strong and beat the last opponent standing in the way of their victory.
"What I think stuck the most was how excited we got as a team every time we scored," grade Tegan Smith said. "Everyone was so hyped and it didn't matter how we scored or when in the game it was but we put all our effort into cheering for the goals. We all came together in those moments and it made the rest of the game better after how exciting it was. The whole bench got up and went over to the team. It was like there was nothing else going on and we were just in that moment together." 
The final, championship game had tensions running high when Ella Schultz and Tia Garr both scored goals in the first half, with Aubrey Wagner and Cate Gusick both as assists. The team played confidently, and even as Faith Lutheran managed to score a single goal in the second half, Coronado's Cougars stayed focused and confident, ultimately winning them the championship.
"When we scored the goals, the entire team, both the starting line up and the players on the bench ran to the corner flat in excitement and cheered," Piccininni said. "It was so exciting and fun to do. When the final game ended, everyone ran out in front of the goal and celebrated our victory."
Coronado's Women's Soccer team, this year's State Champions, finished out the year strong after a season of ups and downs. With an overall league record of 11 wins, 3 ties, and 4 losses, Coronado finished the season, beating Faith Lutheran's Women's soccer team, the 2022 NIAA champions, and restoring Coronado the title of State Champions.
"We had a rough season, but in the end all of our hard work came together and it showed on the field," senior Megan Kingman said. "We had lots of ups and downs, but I think it made us stronger and able to play better together. I'm super proud of all the girls for staying positive and confident that we could reach our end goal. We all stayed in it and gave it our all until the very end."
State Weekend: Women's Volleyball
by Hridi Bhakta
Coronados Varsity Women's Volleyball team went head to head with the Bishop Gorman Gaels on Friday, November 10th. The game took place at Bishop Gorman this year which is more down south, compared to last year when it was up North, causing the team to travel far. In a battle for the title of 5A Nevada State Champions, each team went into the game ready to dominate.
The first set went to Gorman 17-25. The second set also went to Gorman 12-25. However Coronado was able to win the third set 25-23. Unfortunately, Gorman was able to pull away with a win as they won the last set 19-25, which sealed their victory.  
"I am extremely proud of my teammates and all of our hard work this year," senior Hannah Pemberton said. "Almost everyone was new to the team this year and we had a new coach as well so for everyone to come in so young and being told theres not enough experience to get far I couldnt be more proud of getting to state runner up."
Despite the loss the Varsity Women's volleyball team has lots to be proud of this season. Coronado had an impressive record, ending the season 23-9.