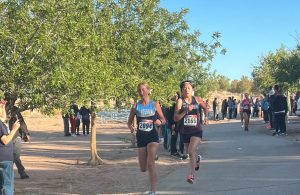 Close the Gap// Striding and using the downhill to her advantage, sophomore Vera Lee, begins to out pace people. Eventually, she finished the race in seventh place and in first place for Coronado.
Varsity Men's Soccer
by Addison Stanton
On Tuesday, October 24th, the Coronado Women's Soccer team butted heads against the Palo Verde Panthers. After a long hard battle, the Cougars eventually pulled it together and produced a 2-1 win on senior night.
"The team's chemistry is very good," senior David Baumann said. "Everyone works well together and it really shows on the field."
With the senior night festivities out of the way, the Cougars began to pound Palo Verde. With numerous fast passes and set plays, eventually they scored the first point. Not long after, however, Palo Verde responded with a goal. 
"I think that the team performed very well together," Kleiner said. "We worked so hard and showed a lot of fight to come back from 1-0 down."
With Palo Verde still under immense pressure, the Cougars eventually squeaked another goal in and were able to hold the lead until the very end. Despite the score being so low, majority of the possession was held by the Cougars. 
You can find the Cougars in their next playoff game on Wednesday, November 1st at Coronado at 4:30 pm. 
Coronado Cougars Varsity football advances to next round
by Hridi Bhakta
On Thursday, October 26, the Coronado Cougars went head to head in an away game against Desert Pines. During the regular season Desert Pines had beat Coronado in a brutal fashion, the final score 7-48. This was the playoffs though, a completely different atmosphere and mindset took over the team. 
"There was pressure, but it was more exciting to face off against a team that beat us the first time, it gave us more motivation to go in and play hard," senior Jake Sheerin said. 
In what seemed like a back and forth game, Coronado started to gain an edge, expanding their lead in the third and fourth quarters. The Cougars were able to pull away with a win, the final score came out to 35-12. 
Eager to keep their season alive, the team is focusing on perfecting their game heading into the second round of the playoffs.
"I honestly felt pure happiness to let this season continue on for another week," Sheerin said. 
"This week we really have to focus on lowering our mental mistakes in order to go in and play our game."
Our Coronado Cougars will advance to the second round. Here they will face Bishop Gorman at Bishop Gorman High School on Friday, November 6th.
Women's Varsity Soccer
by Madeline Vernaci
This week, Coronado's Women's Soccer team opposed Bishop Gorman's team at home this Monday, October 23. In an inspiring show of unity, the Cougars pulled together as a team and were able to beat Bishop Gorman 3-1.
"We were really nervous going into this game because we've had a rough past couple of games, so we've been trying to work better together on and off the field," senior Lily Schuth said. "This was a big game for morale since the game doesn't matter for the season, but it was all about morale and going forward to playoffs." 
In order to clinch their latest win, the team had worked on team building exercises and planning new formations for the upcoming game. This game they organized into a 4-4-2 formation with an extra player in the midfield and that extra person, sophomore Ryan Neel, ended up scoring 2 goals, helping push the Cougars to victory.
"We really want to take that energy we had last time and keep it together for the next game," Schuth said. "It's really about staying calm and working as a team because it's really easy to get caught up in the chaos of soccer so we want to focus on staying calm and doing our thing."
After this victory against Bishop Gorman, Coronado's Cougars will face off against Liberty's Patriots on Wednesday, October 25 at 4:30 in another home game. They will certainly do their best to work together as they head into the playoffs.
Varsity Cross Country
by Addison Stanton
On Friday, October 27th, the Coronado Cross Country team lined up to race against various schools for a chance to run in state. Despite their best efforts, the team did not place high enough to get a state opportunity; however, a few individuals will run.  
With the gun going off for the girls at 8 am, runners got out of the start fast despite running on a slick surface. For the entirety of the race, Shadow Ridge held out strong with two runners leading the pack. For Coronado, Brooklyn Miller (10), Amy Lund (10), Vera Lee (11), and Anna Brown (12) held a strong lead over most of the pack. With the first place winner coming from Shadow Ridge at a stunning time of 19:09, Lee and Brown finished top 25. These four girls ended up qualifying individually for the state run and will be competing in Reno. 
"The Region race was great. My Goal was just to get out there and compete," said junior Vera Lee." I ended up getting 7th, which means I got first team all region which is top 7."
The boys, starting at 8:30, did not share the same victory as the girls. Unfortunately, no boys qualified for state and their season has ended. 
"I couldn't be happier to go to state alongside my 3 individual teammates," said Lee. 
 Miller, Lund, Lee, and Brown will travel to Reno and run in their state meet.