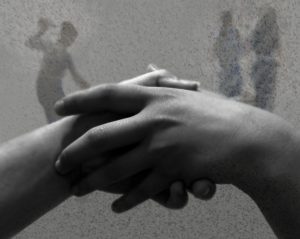 Handshake with death// Grasping the embalmed hand in her own, Mia seeks the supernatural when she allows a malevolent spirit of the undead to possess her. This leads to a rather unhappy ending for Mia and those around her. (Photo by Madeline Vernaci)
Horror's newest modern classic: Talk to Me
by Madeline Vernaci
Content Warning: This article contains possible spoilers for the film Talk to Me (2023)
In a haunting tale of possession and sorrow, ghosts of the past return from beyond the grave to give viewers an emotional look into a complicated found family dynamic, complicated all the more by the demonic presence that tears them apart. All of this and more encompasses the story that is the award-winning 2023 film Talk to Me. Directed by Danny and Michael Philippou- brothers who began their careers as YouTubers and positively shone in their debut as horror writers and directors- Talk to Me did not disappoint.
By all appearances, Talk to Me (2023) is a classic tale of horror and teenage foolishness with the expected twists and turns… until it isn't. Talk to Me takes inspiration from older films such as The Exorcist (1973) and Poltergeist (1982) with their horrifying depictions of possession. While staying true to the roots of classic horror and its themes, Talk to Me manages to put its own spin on a genre that has been around for generations. 
The story follows teenaged Mia reeling after the loss of her mother, struggling with the broken bond she and her father have, and finding comfort where she can with her pseudo-family: siblings Jade and Riley, and their mother, Sue. Distracting herself from her feelings on the anniversary of her mother's death, Mia begs Jade to take her to a friend's party during which they take part in a game where an embalmed hand, rumored to be the hand of a psychic, enables a willing participant to conjure spirits which possess their body for no more than 90 seconds. 
Introduced as a harmless party game and egged on by the influence of peer pressure and social media, participants experienced a high like no other following the possession, and Mia in particular turned to this for comfort. By grasping the embalmed hand as if giving a handshake and speaking the phrase "Talk to me," the participant first sees a spirit, then must allow them to possess their body by saying "I let you in." Mia and their group of friends continue the game, following the rules and never allowing the spirits to stay longer than 90 seconds, until Riley, Jade's younger brother begs for a turn, and the spirit who possesses him speaks directly to Mia as her mother.
Talk to Me deals majorly with themes of loss, depression, and even the influence of peer pressure, providing viewers with a powerful narrative that speaks to the heart, even after they're left stunned by the disturbing and frightening parts of the film. Because of the loss of her mother and subsequent grief, Mia risks everything for the possibility of talking to her again from beyond the grave. The film also perpetuates the importance of the family that you choose when Mia ultimately sacrifices herself to protect Riley in a final act of love to the family that showed her she was not alone with her grief.
By far, the performances of young actors Sophie Wilde and Joe Bird as Mia and Riley, respectively, stand out among a series of chilling roles. The gruesome portrayal of their characters' possessions only served to heighten the mood of the film, creating the perfect dynamic and magnifying the terror felt by the characters throughout the story.
The ending of the film, while abrupt, forced the audience to think about the importance of the story long past the closing of the curtain. Some questions were never answered, and the creators do leave room for a sequel, yet even without a continuation the ending is satisfying in itself. While Mia didn't quite get the happy ending she longed for, the viewers are left satisfied with a film that will certainly go down in horror history.
Talk to Me is not the only A24 film to have a remarkable effect on modern horror, with films such as Hereditary (2018), Midsommar (2019), and The Witch (2016) also gaining critical acclaim and favorable reviews. Many of these horror films released by A24 feature a plot and scenes that are unsettling and mildly disturbing, often taking conventional horror and twisting it into something new and unexpected.
Now streaming, Talk to Me can be purchased on several streaming services or seen in select theaters still showing it. A modern horror filled with visceral shocks and disturbing twists, Talk to Me is a must-see film for horror fans as well as average film enjoyers.