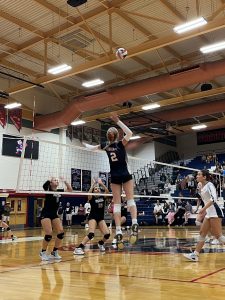 Coronado's Volleyball Team Was Set Up For Success
by Sienna Nicholson 
This past Thursday, August 31st, 2023, Coronado's varsity volleyball team took the court against the Faith Lutheran Crusaders in a home game. The night turned out to be a massive success for the team as all three sets were won with scores of 25-22, 25-23, and 25-17.
When the first set of the night had begun, the team was struggling to hold their ground against the Crusaders. The opposing team had managed to climb up to 15 points, Coronado at a meager 7. However, the team didn't let this last as they were able to prolong rally after rally by popping balls back into the air at the last second.
Following one of these long rallies, Coronado was able to set the ball up perfectly with a double set for sophomore Rachel Purser, who spiked the ball and earned her team a point. Several continuous plays like this quickly racked up points for the team, soon surpassing Lutheran despite their score advantage.
"I thought I played really well," Purser (10) said. "As a team, we played great and it was a lot of fun."
After making such an incredible turnaround, sophomore Gentry Oblad managed to earn the winning point of the first set with an unbeatable serve to the other team, instantly securing their victory for the round at 25-22.
"I feel like it was a good game for us," sophomore Hannah Wayment commented following the day of the event. "Even though we didn't play our cleanest we pulled off the win by working together and supporting each other."
The strong support of the team was evident as ever as after each round they would come together in the middle of the court, either congratulating or encouraging each other. Similarly, the stands were filled with school spirit as students and families alike shouted several various cheers with each point scored or lost. 
Thanks to this energy and their commitment, their comeback was long-lasting. The team was on top of every ball in an attempt to score more points, and while some led to failure, most worked out in their favor.
A risky spike attempt by sophomore Julie Beckham right at the edge of the net turned out successful, earning them yet another point. The team was on their a-game after winning the first set, and it seemed Faith was falling behind as they served several balls out-of-bounds.
"I think we implemented what we've been practicing," senior Abigail Paulson explained. "We worked well as a team to come back when we were down which ultimately led to our victory."
Through determination and good team morale, Coronado's volleyball team was able to secure the next two sets with scores of 25-23 and 25-17. Running on such a fantastic victory, the team plans to once again swipe the court in their next game against Palo Verde High School at their school on Thursday, September 7th, 2023 at 6 pm. Be sure to attend so you can witness them all in action.
Varsity Women's Soccer
by Addison Stanton
On Monday, August 28, the Coronado Women's Soccer team butted heads against the Shadow Ridge Mustangs. After previously suffering a 1-0 loss from the Mustangs in preseason, the Cougars came out ready to respond. A game heavily controlled by the Cougars, resulted in a 6-0 win. 
The team's chemistry is very good," sophomore Allison Kleiner said. "Everyone works well together and it really shows on the field."
The defense possessed the ball well with the first kickoff going to Coronado. Immediately, Center Forward Sierah McCallum rushed down the field and scored the first point. Two goals followed prior to halftime.
"I think that the team performed very well together," Kleiner said. "We worked so hard and showed a lot of fight to come back from 1-0 down."
With a few substitutions, the Cougars were back on the field. Considering the heat, both teams looked as if they were functioning well. The Cougars ended up combining in the offensive line to produce three more goals which resulted in the final score of 6-0. 
You can find the Cougars battling it out with Cimmaron Memorial High School on Tuesday, September 5th, at Coronado, at 4:30 pm. 
Varsity Golf Team 
by Talia Medina
Coronado's girl's varsity golf team had two games this last week on August 17th and the 22nd at Desert Oasis. They putted against several teams such as Palo Verde, Faith Lutheran, Centennial, and Liberty. On the 17th they got scores of 270 and 272 on the 22nd, making them hit the ball directly into first place. 
"I feel that the team pushes me to be a better golfer and overall person," senior Ariya Soldwisch said. "We've played on very well-maintained courses and I'm grateful for that because last year it was a little rough due to the aeration schedules."
Coronado's golf team has recently had a thriving and successful past couple of games since last year and are continuing to keep their ambition for the season and are looking forward to being a part of the team as well as continuing their winning streak. 
"I'm looking forward to growing closer to the team and winning the state championship together,"said Soldwisch 
Coronado's Varsity golf team will have another match on September 19th at 12 pm at Bear's Best.