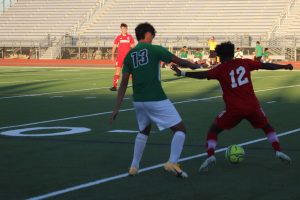 by Jordyn Tribus
October 19, 2022 was a special day for the senior players on the Coronado Men's soccer team. In addition to playing a physical game against Rancho High School, the graduating seniors were spotlighted and celebrated for their hard work as student-athletes. With the crowd hollering and the players hyping themselves up, Coronado was prepared to play from whistle to whistle. 
The first half began and the players were extremely aggressive. They were winning 50/50 balls, putting in the tackles, and creating chances. Unfortunately, this did not prevent them from letting in two easy, early goals which put them on their heels for the rest of the half. Coronado's perseverance was represented when senior Francisco Avila scored two goals in a matter of four minutes. This frustrated the other team which led to their belligerence costing them big time. Rancho High School was presented a red card and had to play down a man the remainder of the game. This provided Coronado with a 1 player advantage, in which they were able to utilize. 
"We were down 2-0 in the first 10 minutes of the game and it was kind of embarrassing because it was our senior night," senior Ryder Breeden said. "However, we were able to come together to score two goals."
Starting the second half, Coronado regained their momentum and their scoring streak. Even though Rancho played over physical, Coronado didn't see this as a threat and were able to capitalize on their opportunities. The referees let the game get out of control and the teams began to get chippy. Despite this, the Coronado men's team was able to come out victorious with 4 more shots reaching the back of the net, bringing the final score to a 6-2 win.
"The refs were really bad this game," senior Dalton Rideout said. "They were making bad calls and were handing out yellow cards left and right. More than 7-yellow cards were given out in this game." 
Coronado will play their second to last league away game against SECTA at 4:30 on Tuesday, October 25.