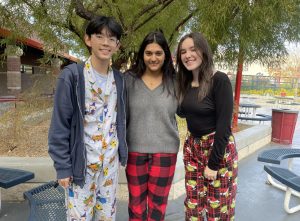 by Madeline Vernaci
Winter spirit week is a yearly tradition, planned and decorated entirely by the student council. Coronado students are encouraged to spread holiday cheer by participating in this year's "Home for the Holidays" Winter Spirit Week, which started Monday, December 5th, and ends Friday, December 9th. Only a week before final exams and the start of the winter break, this event is sure to bring some joy into students' lives.
Each day of the spirit week has a different theme and way to dress up. On Monday, the theme was "Long Winter's Nap" and participants wore their favorite pajamas. Tuesday's theme is "Family Photo" and students will wear flannel, while Wednesday's theme is "Winter Wonderland" or the white lies day. With Thursday's theme, "Sweater Weather," cougars are asked to perpetuate a beloved holiday tradition— wearing ugly sweaters. Bringing an end to the week, students are encouraged to show their school spirit by wearing cougar gear with the theme "Cozy Cougars."
"I'm very excited about the spirit days, and winter week is always my favorite out of the spirit weeks," senior Emma Okamura said. "My favorite spirit day would have to be Winter Wonderland, which is our white lies day. It's so entertaining to see the funny white lies that people come up with!"
The white lies day was a spirit day last school year, and had a good turnout, which is likely the reason they're bringing it back again this year. The way to participate in "white lies" day is simple. All you have to do is write a lie on a white shirt, and then you've got your white lie. From creative and funny to overused lies, everyone is sure to enjoy seeing what cougars write on their white lie shirts.
"Personally, I am so excited because I think it will be cute," junior Leylani Parra said. "I think the spirit days are easy to dress up for which should mean a lot more school spirit and I'm also excited because the decoration of the school will really help it feel like the holiday season." 
Student Council has a committee in charge of decorations, tasked with planning and enacting the decorations for every spirit week. Since it's such a big job, they do the planning weeks before the actual event, to prevent anything from going wrong. Every part of a Coronado spirit week is planned out by the student council, from the decorations to the exact themes and ways to dress up each time.
"We take into consideration what we think the students would like to participate in; we try to make the spirit days easier so that more students can participate," sophomore Ginger Tie said.
A lot of thought goes into spirit weeks, and the student council always works hard to bring together the students of Coronado and get them involved. Most spirit days aren't overly extravagant, to maximize student participation. On top of that, the incentive of treats given out at lunch for participants each day is sure to draw in some students who were hesitant to participate.
"A lot of times, we look back on past spirit days and see what had the most participation," Okamura said. "We like to plan spirit days that people feel comfortable enough to participate in to maximize the number of people who feel included in our school environment. Also, winter week tends to have a lot of traditional spirit days like pajama day and ugly sweater day, which makes the selection process easier for us."
Coronado's Winter Spirit Week is going to bring some much-needed cheer to Coronado just in time for the holidays. Don't forget to participate!