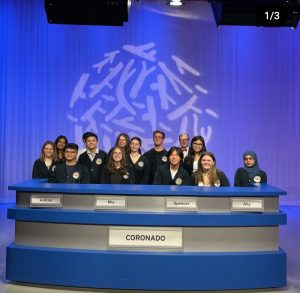 by Aubree Gearhart 
On Friday, February 24th Coronado's Varsity Quiz team will compete in finals against The Meadows High School. To briefly explain, Varsity Quiz is an academic competition for Las Vegas High School students to compete against each other by answering a series of challenging academic-based questions. 
"Our last game vs Bishop Gorman went great; we were firing at all cylinders," senior Frank Abbeduto said. "There was a noticeable difficulty spike with the questions in the Gorman game; nonetheless, I think the team is ready for the increased challenge going into our next game. I'm proud of our performance, and I can't wait for the next game against The Meadows." 
Coronado's varsity quiz team had an outstanding performance at the semi-final comeptition against Bishop Gorman , with a final score of 135-25. Coronado took home the win against Bishop Gorman. During this competition, the Cougars said they were asked some of the most challenging questions they've ever seen. Coronado advanced to the championship competition to compete against The Meadows. 
"Last match we saw some of the hardest questions I remember us ever being asked, but we still managed to pull through and win with a considerable lead," senior Marie Picini said. "I am really optimistic going into the finals, and I can't wait to compete against the best team we are going to face yet. I know we will play our best and hopefully, that will be enough to win." 
The Cougars are very confident going into this next competition and are very hopeful they will beat their opposition and be named Quiz Bowl Champions.