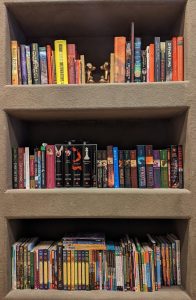 by Logan Harms
If you are a sophomore who is taking English 11 Honors next year, you will be required to read a biography and write a book review of it. It's best to start looking for a book now so that you have one when the time comes next year (or so you can read it over the summer and get it out of the way). Here are five recommendations for biographies that you should read.
Jon Krakauer
Literally, any book by Krakauer will be an enjoyable biography. He is known for accurate and gripping accounts of history. His most popular book, Into the Wild, is a famous story of a man – Christopher McCandless – and his journey into the untamed wilderness of Denali, Alaska. However, if Into the Wild doesn't seem interesting (or you've already watched the 83% Rotten Tomatoes film), then he has a multitude of other options: Into Thin Air, Jon Krakauer's personal account of his journey to the summit of Mt. Everest, Under the Banner of Heaven, a story of the violence that occurs in some extreme religions, and Where Men Win Glory, the harrowing story of ex-NFL player Pat Tilman, who left the NFL to fight in the military after 9/11. All of his books have received 4 stars or higher on Goodreads, and Into the Wild, especially, is an essential read by any means.
The Autobiography of Malcolm X as told to Alex Haley
One of the most important, and famous, biographies ever, The Autobiography of Malcolm X is an important read. This autobiography is one of the few to be deemed an American classic, as it expresses a critical moment in America's history. There are few people that were able to articulate the anger and frustrations of African Americans in the '60s as Malcolm X did. It is a book that will whisk you away into his world where you can learn to understand his controversial perspectives. It will make you re-evaluate your views of America and the way you view the American Dream (something that will be important later in the school year). With 4.35 stars and over 253,000 reviews, it is a book worth looking into.
Seabiscuit by Laura Hillenbrand
Next year a lot of your peers will be reading Hillenbrand's Unbroken, but if you want to be original, Seabiscuit: An American Legend is a biography worth checking out. In the late '30s, Seabiscuit was an electrifying attraction in sports, and the "single biggest newsmaker in the world in 1938." It tells the story of the three men that shaped the raised the famous horse Seabiscuit to become one of the greatest racing horses of all time. They fought through peril, injury, and chaos, to shape this horse into an American legend. With over a hundred thousand reviews and 4.22 stars, Seabiscuit is a story that will stand the test of time. 
American Buffalo by Steven Rinella
American Buffalo was a surprisingly good read. It details the journey of Steven Rinella, a famous hunter, and conservationist, as he goes to Alaska to hunt a buffalo. He receives a super rare tag that allows him to go out into the Alaskan wilderness and bring home one buffalo and after his friends help him get set up, he is left alone. Being tracked by bears and wolves, he has to find and kill a buffalo and bring it all the way downstream through rapids back to his camp, all while fighting off hypothermia. American Buffalo is, however, more than just his story. It is about his connection to buffalo, their harrowing history, and their majesty. With 4.3 stars on Goodreads, American Buffalo is quite possibly the greatest non-fiction book I have ever read.  
The best biography to read is that of someone you admire
What it all boils down to is who do you admire? It can be a role model, someone you find interesting, or someone who you used to adore in your childhood. There are thousands of biographies out there, whether it be a politician, musician, or athlete, there is bound to be a biography on your favorite celebrity. If it comes down to it, you can just pull a book from the recommended list they give you. 
This is the one and only time you will be able to pick what you want to read for school, so take advantage of it, and maybe rekindle your love of learning.