By Marcus Hunt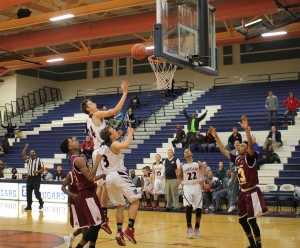 Nick Kornieck lead the team with 27 points and 10 rebounds along with Eddie Austin's 22 points to lead the men's varsity basketball 63-62 home win against Eldorado High School.
Coronado started strong leading 16-10 at the end of the first quarter. Coronado continued a slight lead 33-32 at the half, 46-46 at the end of the third quarter.
With 8 seconds left in the fourth quarter, the score was tied 62-62, but Eddie Austin's free throw sealed the deal 63-62 to secure the Thursday night nail-biting win.
Austin Morgan also contributed 3 points and 6 assists, along with 4 points each from Braden Van Alfen and Travis Bowman.
Coronado currently sits second in the southeast league behind powerhouse Foothill. Coronado's next league matchup is Monday, Feb 10 at Basic High School at 6:30pm.