By Kacie Leach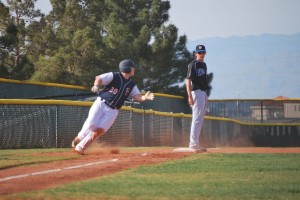 The men's varsity baseball team battled it out against Basic High School at home on Tuesday, April 8.
At the top of the fifth, the score was tied 5-5. The game was getting down to the wire and Coronado wasn't able to pull through. The final score was 11-5, Basic with the win.
Jackson Cofer, senior, pitched four innings. Adam Garcia and Jacob Klein, both sophomores, pitched the other three innings.
"We win as a team and we lose as a team," Daniel Witoslawski, junior, pitcher and first baseman, said.
The men's next game is scheduled at Eldorado High School on April 10 at 3:30 p.m.