By McKenna Cooley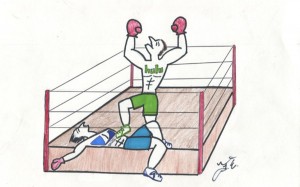 During the school year, students are so busy with classes and extracurricular activities that they do not have much time to watch the new seasons of their favorite shows. Since students will want to be doing some serious winter break binge watching with their favorite mugs of hot chocolate, they should decide what platform they are going to use.
Everyone knows the popular TV service providers: DirecTV, Dish Network, and Cox. In their commercials, they each claim they provide better services than other companies.
This raises the question, which service provider is the best? Well, there's a lesser known online provider on the rise, Hulu. Hulu is newer and offers a different way to watch TV shows and movies more conveniently for the average person's lifestyle. There has been a recent decline in the popularity of cable providers because companies, such as Hulu and Netflix, are taking an increasing number of online business.
For starters, the difference in prices is substantial. With Hulu's basic Limited Commercials Plan everyone pays $7.99 a month; however, Hulu has one other plan, the No Commercials Plan, which is $11.99 a month. DirecTV's plans start at $19.99 a month for the first year, and then with the contract deal, their prices increase dramatically.
Additionally, the difference in services is incredible. With Hulu's No Commercials Plan customers have no commercial breaks compared to their Limited Commercials Plan, but with both plans comes unlimited access to great TV series and hit movies. Also with both plans customers receive current-season episodes, the ability to switch plans anytime, and the availability of a SHOWTIME add on. Whereas with DirecTV's lowest-priced plan, customers will receive 145+ channels, a free Genie DVR in four rooms, and 46 free movie channels for three months. Prices range with different plans and channel options like the Sunday Ticket, the Sports Pack, HBO, SHOWTIME, and STARZ. On top of that, there is no way around the commercials with DirecTV.
Lastly, the differences in availability are crucial. Hulu has current-season episodes available the day after they air which is great considering with Netflix it takes until the next season starts. Usually all of the aired episodes are available to watch anytime while the rest of the season is airing. Users can watch their shows and movies anytime using their TV, smart phone, tablet, game console, or PC. DirecTV users have to watch their shows at the time they air or buy a DVR-Genie. Even if they have a Genie, it can only keep so many episodes of one show. Customers are also limited in that they can only watch their shows using DirecTV's app or a dish.
Saving money might not be the most relevant thing in a teen's life today, but parents will appreciate their children helping them reduce their TV bill. When parents save money by switching their TV provider, they become more willing to buy that $200 prom dress or even a car. Hulu should be everyone's first choice in TV providers, above all the others, especially DirecTV.