By Lauren Smith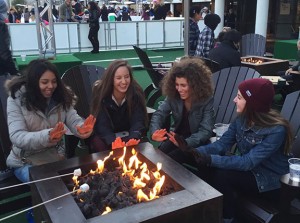 It is a common misconception that there is nothing to do in Las Vegas during the holiday season. Little do people know, there are many family-friendly holiday happenings in Southern Nevada, from ice skating to musicals, there is something for everyone.
The Cosmopolitan Hotel transforms their Boulevard Pool into The Ice Rink, a winter wonderland overlooking the heart of The Strip. High above the hustle and bustle of Las Vegas Boulevard, anyone can enjoy the brisk outdoors, surrounded by fire pits and good company.The area is open until Jan. 3. More information, including pricing can be found at  http://www.cosmopolitanlasvegas.com/experience/icerink.aspx
"One of my favorite things to do with my friends during December is to go to the ice rink at the Cosmopolitan," Vanessa Vidas, sophomore, said.
Walking through the Holiday Cactus Garden, guests are awed by sparkling lights.The Ethel M. Holiday Cactus Garden is conveniently located in Henderson. The factory and chocolate shop turns their cactus garden into a holiday spectacular Nov. 1 through Jan. 1.  Visits from Santa Claus and performances by local choirs run nightly, and Madrigals even sing at opening night every year. With free admission to the venue, Ethel M is a great holiday tradition.
"I love going to Ethel M because there are lots of beautiful lights to look at. If you want to warm up, you can buy some hot cocoa and receive free chocolate when you exit the garden," Gabriella Lepore, junior, said.
The holiday performances at the Smith Center are a favorite tradition among many. Nevada Ballet Theatre's production, "The Nutcracker," features a full orchestra and larger-than-life landscapes. The show is playing at Reynold's Hall through Dec. 20. Go to http://www.thesmithcenter.com/shows-tickets/ticket-office-hours-information/ for box office information.
A white Christmas may seem like a far off dream, but Town Square is turning that dream into reality. The Snow in the Square show runs through Dec. 23 at Town Square Park. All shows are choreographed to classic holiday tunes and are scheduled Monday – Thursday at 7 p.m. and Friday – Sunday at 7 p.m. and a second show at 8 p.m.
Opportunity Village is a non-profit organization that helps men and women with all levels of disabilities. The Magical Forest at Opportunity Village has become a cherished Southern Nevada tradition with activities such as a passenger train, carousel, 3D elf experience, avalanche slide, mini golf, and photos with Santa. There is something for all ages. To experience the magic visit http://www.opportunityvillage.org/pages/magical-forest
Although it may seem that Las Vegas isn't very family oriented, there is still plenty to do around town this holiday season and new traditions waiting to be made.