By Saveria Farino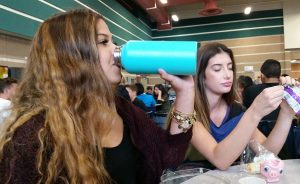 Their catch phrase is "Live Refreshed" and Hydro Flask makes it possible to do just that. Founded in 2009, Hydro Flasks makes unique decanters designed to keep drinks at any temperature. The magic to this is in the bottle's composition. Made with 18/8 pro-grade stainless steel with the help of an insulated cap there is no heat transfer or condensation on the outside of the bottle, allowing drinks and adventures to be enjoyed.
"I like being able to drink my water hours after filling it up, and it is still ice cold," Bryce Lobenburg, sophomore, said.  
Originating in Bend, Oregon, founders Travis Rosbach and Cindy Morse launched the first all insulated bottle. They provide everything from the lightest bottle in the market to insulated caps. Hydro Flasks has won many unique awards including Inc 500's fastest growing company, Coffee Fest Portland, REI Vendor of the year, and "Outside" magazine's "best places to work list" in just the past two years. Besides creating these flasks, this company also gives back to the community. They give 5% to multiple charities and nonprofit organizations.
The bottles can be used for more than just water. Running late? Pour morning coffee into a Hydro Flask, and take it on the go.  The company also makes a Food Flask allowing users to take their soup with them while keeping it as hot as it was on the stove. These food flasks come in three sizes: 12, 16, and 18 ounces.  
"My Hydro Flask is great when I want to bring my tea to school with me. It stays hot all morning," Destiny Simpson, junior said.
Of course everyone is different, but these bottles accommodate a variety of wants and needs. The water bottles sizes range from 12 to 64 ounces, and also come in many different shapes and colors. Prices range from $21.95 through $59.95; the lid styles, which include the straw lid, grip lid, and coffee lid, allow personalization of every bottle detail.
"I love the fact that there are so many different size and color options of Hydro Flasks. It's also awesome that there is no condensation on the outside of the bottle," Cambree Kalana, junior, said.  
The company has also recently introduced their newest product, the My Hydro. By choosing different colors for the size, lid, bottle, and the new slip-proof silicone boot, owners can completely customize their bottles making them less likely to get lost or stolen.