By Rosa Cesareo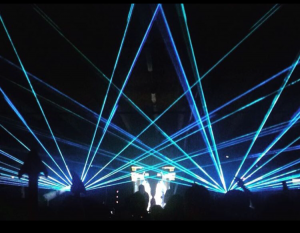 Ghouls, ghosts, and goblins got their freak on during the Hallow-Freak Night underground bass heavy event at the Arden Relocation Center on Saturday night. From 8 p.m. to  a.m., various local djs performed including headliners Rust, Jus Me, VTM, Papa Groove, STYLZX, Matt Campbell, No Xtraz, Type3, and Polaris.
The Arden Relocation Center is a new addition to favorite Halloween-themed attractions; built on the old Arden railroad, the location offers the ultimate zombie apocalypse experience. Immediately after paying the $12 admission fee, guests were welcomed to an open stage surrounded by cages, propane tanks, hazmat suits, and trucks. All of the props were very realistic and eerie, complementing the rave's spooky vibe.
Concession stands offering drinks, food, and accessories were open throughout the night, near benches and tables for people to rest and chat with new friends. Food was pricey, but it was difficult to complain while recuperating from hours of drained energy with a refreshing diet coke and $5 french fries. Time between eating and dancing was well spent at the stands selling colorful merchandise; the best items were flashing teeth and gloves with lights at each fingertip.
A pleasant aspect was the outdoor setting, which provided an abundance of space; however, because the event was packed, it quickly become a stuffy and sweaty environment. This should have been considered by the hosts and would have been easily solved by placing a few fans around the venue. Despite the heat, a $2 water bottle was readily available for purchase at the bar and quickly saved the day before resuming to party.
The majority of attendees clustered in front of the stage, where they swayed and shook to the beat. All were wearing bright, creative costumes that glittered and shone under the strobe lights; the best dressed included a flying squirrel, hula dancer, and combat girl.  
The entire lineup was extremely talented and kept the party going all night long, save for a few disappointing bass drops and one minor technical difficulty. After a couple of hours the main djs took the stage, with No Xtraz starting at 11:30. The highlight of the event was Polaris, who performed from 2:15 to 3:00.
Overall, the Hallow-Freak Night experience was over-the-top and definitely worth the ticket price. A followup underground event, The Project X III, will occur at the New Orleans Square Music Hall on November 19, inviting all people who know how to have a good time.