By Kiley Brown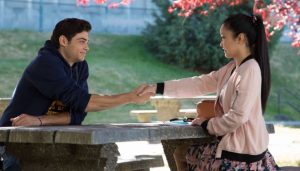 After the massive success of "To All The Boys I've Loved Before" in Aug. 2018, the sequel "To All The Boys I've Loved Before: P.S. I Still Love You," was released on Netflix on Wednesday, Feb.12. The third film reportedly went into production two months after shooting the second film, but it is hard to determine when it will come out.
Lana Condor and Noah Centineo reprise their roles as boyfriend-girlfriend duo Lara Jean Covey and Peter Kavinsky who fell in love accidently from the not-meant-to-be-sent love letter Kitty (Anna Cathcart) sent out. The film starts off with the couple going on their first real date together. The love letters Lara Jean's meddling sister, Kitty, sent originally in the first movie ended up in someone else's hands, too. Upon arriving at home, Lara Jean discovers she received a response from her sixth grade crush, hunky John Ambrose McClaren (Jordan Fisher). McClaren's character is more sensitive compared to Kavinsky's rough-around-the-edges personality.
As one may guess, the two end up reconnecting at the local retirement housing center while volunteering. Ironically, Kavinsky didn't want to volunteer with his girlfriend here. The two reminisce about the past, McClaren even admitting a few things, like how he has gone by his childhood nickname, John Ambrose, all these years all thanks to Lara Jean. This leads Lara Jean's middle school friends to plan a reunion at their childhood treehouse, and she realizes it may not be all about boys. 
As shown in the first film, Kavinsky's ex-girlfriend, Gen (Emilja Baranac) and Lara Jean used to be very good friends, connecting through the utmost powerful friendship bracelets. In the midst of all this, Lara Jean and Kitty's dad even encounters a new love interest of his own, which is not shown much, but deserving of more screen time. The majority of the movie focuses on Lara Jean's dilemmas, but it would have been nice to see how things progressed more with her dad. He did have a few scenes with his new interest, but it did not show the outcome in depth, as he is only shown for about ten seconds near the end of the movie. 
"To All The Boys I've Loved Before: P.S. I Still Love You" shows influences from John Hughes and Chris Columbus. Lara Jean dances to "Then He Kissed Me," by The Crystals which is modeled after a scene in "Adventures in Babysitting." Later, a moody cover of "Girls Just Wanna Have Fun" by Cyndi Lauper plays during one of the emotionally intense points of the film. The 80's nostalgia is also present in the first film, as Lara Jean forces Peter to watch "Sixteen Candles." 
Overall, this rom-com, is much more in depth than the first. It explores Lara Jean's insecurities and concerns with her relationships. Drama definitely arises, truths are told, and this love triangle is quite the rollercoaster. The first film is free to everyone on Netflix, no subscription required, now through Monday, March 9. For those who read the book, this film leaves a lot of details out, but nevertheless, it was a refreshing teen rom-com jam-packed with new characters and various plots.