By Isaac Anwar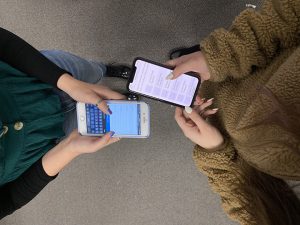 Student Council student body officer elections begin today and go until 1:15 pm Friday, Feb. 21. Students can vote by clicking this link. Students will be asked to include their first and last name, student ID and grade level.
"Being a student body office is super special to me because it is a sort of recognition of all I have worked towards while part of the Student Council," said senior Savanna Bergquist, current Student Body Historian, said. "I love being able to promote positive change to the whole student body."
There are two new positions opening up, Vice President #2 and Public Relations. This brings the total number of positions to seven: President, Vice President One, Vice President Two, Treasurer, Secretary, Historian and Public Relations. Another big change is the addition of who can run. Sophomores can now run for the once purely junior positions such as Treasurer, Secretary and Public Relations. The new format will divide workload between officers and improve efficiency and quality in future activities. The Public Relations officer is in charge of social media and sound systems during events. 
"I'm really glad that there are more positions available now because there is more work distribution, which hopefully will create better events and activities for next year and increase school spirit," junior Bennett DeBry said. 
The winner is also decided in a new way. In years past the winner has only been decided by the popular vote, but now there are two different categories that each candidate will be assessed on. The winners are now decided on application, interview and the popular vote. Candidates will be graded in each category, and the person with the overall highest score will be declared the winner. This is to make sure the most qualified person is the winner and not just the most popular. 
"Running for a student body position is such an important milestone for me," junior Kaitlyn Polhemus said. "I want to share the knowledge and everything I've learned since I started the program freshmen year, and to lead in a way that influences others to grow in the same way I did,"