By Oliver Van Aken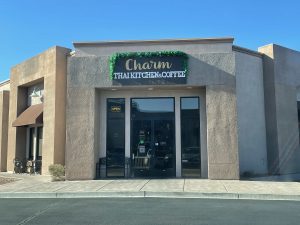 Las Vegas Boulevard is renowned for its diverse and exceptional dining scene. It appears that all corners of the world are represented along the Strip, from fresh Greek seafood to traditional Chinese dishes. However, our side of the valley is also home to a flourishing and culturally diverse culinary community. 
Usually, Henderson locals drive past these places, Postmate them once or twice, and continue with their day; however, it's crucial we acknowledge and appreciate the diversity we have developed as a city. After all, nothing too homogeneous is ever beneficial and that includes our taste buds!
HUMMUS Bowls & Wraps
Located on the northwestern corner of S Eastern Avenue and Sunridge Heights Parkway, HUMMUS shares a taste of the Mediterranean with a twenty-first-century delivery. Resembling a build-your-own style, HUMMUS offers customers the option to construct a "Hum Bowl" or "Pita Wrap". From there you pick from an array of hummus, greens, grains, proteins, sauces and other toppings to stuff your bowl or wrap with. Customers also have opportunities to indulge in Mediterranean side dishes such as falafel, halloumi, and pita fries. HUMMUS states that all of their ingredients are locally sourced and natural.
Bell's BBQ
Adjacent to our previous mention, Bell's BBQ is a black-owned and family-owned traditional American BBQ restaurant located off of Eastern and Sunridge Heights. Decorated by a mixture of blues and country signs and posters, Bell's BBQ attracts the traditional cornbread-connoisseur or ribs-reviewer. Although, their expansive menu and reasonable prices are what keep them coming back. Most of their meat is smoked, but they do have fried and baked options such as Chicken & Waffles or the Catfish Filet. Bell's BBQ also features their homemade "Sweet Jars", desserts typically including pudding, fruit, and cake all compiled within a single mason jar. Sweet Jar flavors range from Caramelized Banana Pudding to Aunt Linda's Red Velvet.
Charm Thai Kitchen and Coffee
Positioned on the northwestern corner of S Valle Verde Drive and W Horizon Ridge Parkway lies Charm Thai Kitchen and Coffee. Opening approximately five months ago, Charm Thai diversified the Green Valley Ranch area with authentic Thai dishes such as noodles, curries, and wok-prepared meals. The restaurant's head, Chef Sittichai, embraces his Thai ethnicity in his cooking. If you're only interested in a quick stop for a Thai Tea or Espresso, Charm Thai is still the place to go as they feature a walk-in coffee bar inside the establishment. 
Tacotarian
Found on the corner of S Valle Verde Drive and Paseo Verde Parkway is a plant-based Mexican eatery named Tacotarian. The concept of this vegan taco-focused restaurant was born after the founders were inspired by all the vegetable-based dishes found in Mexico City, and after eating at Tacotarian I am glad it came to fruition. Tacotarian offers tacos, quesadillas, burritos, and enchiladas, with both vegetable and meat-based options available. Personally, I recommend the soy chorizo on their Chorizo Taco. Also, don't forget to refresh yourself with an agua fresca or a traditional Mexican desert!
9th Island Grill
The Hawaiian fusion restaurant, 9th Island Grill, is located within St. Rose Square and offers a variety of traditional Hawaiian dishes with an Americanized appeal. Serving both surf (seared ahi and salmon) and turf (pork, chicken, and beef), 9th Island Grill welcomes anybody craving what the islands have to offer. As a refresher, they also serve boba drinks and fruit teas. Bowlology has also paired with 9th Island Grill at this location as they serve acai & pitaya bowls along with poke bowls.
Overall, these five restaurants offer some much-needed diversity within the local area, but with that being said there surely are more cultural places in Henderson that don't pertain specifically to dining. Cultural experiences can be found in art, literature, and even people, so don't limit your horizons and especially your appetite.