Women's Basketball 
by Aubree Gearhart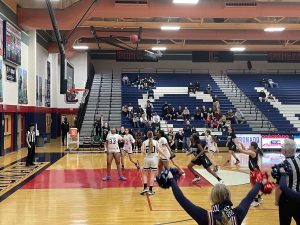 The Coronado Cougars women's basketball team took on the Green Valley Gators on Feb. 9 during their senior night game. The final score was 23-55, a win for the Cougars. With this being senior night and one of the Lady Cougars last games, this was definitely a game to remember.
"Without a doubt, this season is one of the most memorable experiences of my high school basketball career." said senior Morgan Dougherty (#20). "I'm so glad to have shared the court with these amazing players and I'm looking forward to the future of this program for years to come."
Winning the senior night game was a pretty big accomplishment for the team and the Cougars are stoked that they were able to pull through and win their senior night game and the last game of the season before playoffs. The Lady Cougars will be progressing into playoffs.
"It was so surreal and to see the amount of support of our seniors is amazing." said senior Kellen Takii (#1).
Your Lady Cougar will be in the first round of playoffs on Feb. 15th at 6:00. The Cougars will be taking on the Liberty Patriots at Liberty Highschool for playoffs. Come out and support your Lady Cougars. 
Varsity Dance Senior Night
By Brianna Gracia
Coronado's Cougarettes performed last week at Green Valley. The dance team tripled again with getting first in pom, jazz, and game day. Later, at Coronado, the team was able to celebrate Senior Night!
Senior Night is an event here at Coronado that celebrates the seniors of our athletics teams. After all of the hard work they've put in, they certainly deserve some recognition. While the performance was meaningful for the entire team, it held a special place in the hearts of seniors. 
"It was a little chaotic," said senior Rylie Waldron. "But all in all it was a great experience. I've been looking forward to it since freshman year." 
For the dance captains, it meant preparing to leave behind a team of young ladies who would follow in their footsteps. Kennedy Payeur and Jenae White have watched the rest of their team grow throughout the year. Not only that, but these two girls have been with the team since freshman year.
"It was really bittersweet for me," said senior Kennedy Waldron. "I was kind of excited to end my performing journey here at the school. And it was nice to be recognized at Senior Night with all of my friends. I've been taught so many life lessons and have met so many people." 
Coronado wishes our seniors well as they finish the rest of their final year. The team has accomplished so much throughout the year, and the seniors of Coronado's Varsity Dance Team will do great things!
Women's Flag Football
By Addison Stanton 
On Saturday, Feb. 12, Coronado's Varsity Flag Football team took on Clark High School and won 39-34.
"The game was fun, we played well and as a team we connected and played our game," said junior Marisa Skelton (#7).
The game versus Clark had very high intensity. Both teams wanted to advance in the playoffs and compete for the regional title. The game stayed pretty neck and neck all four quarters. In a final push by Clark, a throw that was heading towards the end zone was battled down by Cornerback Sloane Vuckovic. The defensive strength had a huge factor in getting the win. 
"The team's success was good, we won the Clark game and we had fun while doing it," said Skelton.
Coronado will be facing Bishop Gorman at Bishop Gorman at 6pm on Tuesday, February 15th.