By Maddie Baker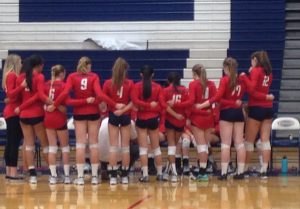 After making it to regionals, the Cougars (14-17) beat their first opponent, Las Vegas High School (16-20), on the way to state. Unfortunately, they fell to Silverado (31-7) during their next match, ending their journey to state.
"[Getting to regionals] made us work harder, and we started to work as a true team when we played against Silverado. Seeing them win made us all want to fast forward to next year, so we can play them again and beat them," Riley Froman, sophomore, said.
Cougars won all three of their games on Tuesday, Nov. 1 against Las Vegas High School at Silverado. First match was 25-10. The second match was 25-13, and the third match was 25-17.
"The win on Tuesday really motivated us for the game on Thursday by making us realize we need to push through every point because every point matters. It also let us see a few more things we needed to improve on before Thursday. We had a really good practice Wednesday," Maddie Karcich, junior, said, "Our whole team was very excited to play Silverado because it would be so nice to beat the team that beat us earlier in the season. We worked very hard and just barely lost that game. I'm very proud of how our team preserved through that match."
Silverado beat the Cougars 3-1 on Thursday, Nov. 3 at Coronado. The first match was 27-25 Silverado then the second match was 25-21 SIlverado. The third match the Cougs took 30-28. The final match Silverado swept with 25-15.
"We went out fighting and all played our hearts out. We were proud of how far we had gotten and though disappointed, we're happy with how much we've come together as a team this year and how much everyone has improved, Safana Boutahiri, senior, said, "I believe we have left a great team behind that will greatly succeed next year after experiencing this loss. With a young team this year, all of them now have a taste for winning and know the potential of what Coronado can do."