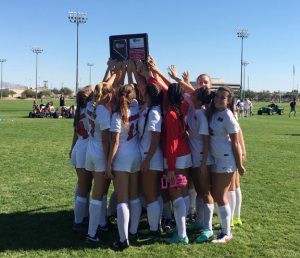 By Saveria Farino
At the Sunrise Division Championship on Saturday Nov. 5, both men's (17-3-1) and women's (19-2-4) varsity soccer won their games and will advance to state.
"As a sophomore, my first regional championship was definitely intimidating! All of these girls are experienced, but this was my first time. It was really cool in the end to see the team come together and win regionals," Amanda Burt, sophomore, said.
The boys began bright and early at 10 a.m. and played against Valley (6-9-4). Goals were scored by Preston Judd, senior, John Lyman, junior, and sophomores Alfredo Diaz and Brock Rideout. This was the team's first win at regionals and will carry them to their first state game on Tuesday, Nov. 8 at four p.m. at Bettye Wilson Soccer Complex. The final score was 7-2 Cougars.
"It was an amazing feeling making history for our school and plaaying with the team. Even when we were down we knew we could come back," Harrison Mirolla, junior, said.
At noon the women's team shut out Foothill (10-6-2) 1-0. Katelyn Moxley, junior, scored one goal for the Cougars, and Rachel Morris, senior, made five saves to help lead the team to a victory. Their first state game will be on Friday, Nov. 11 at 6 p.m. at Bettye Wilson Soccer Complex.   
"I was honestly shocked but extremely thrilled to get the shutout. Foothill is a very competitive team, and I knew they would bring it. My defense was a huge impact during that game and contributed to the shutout as well," Morris said.