By Emerald Green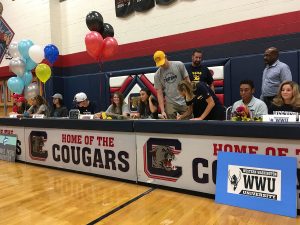 As of last year, Cougar athletes were signed by colleges across the country in November, February, April, and May. Twelve different colleges signed thirteen seniors on Wednesday, Nov. 9. They celebrated their accomplishments on Monday, Nov. 14 at a signing party with their friends, families, and coaches.   
The University of Illinois Chicago recruited Kylie Keyer for her strong long game in golf.
"I chose UIC because of it's amazing highly recognized science programs and their willingness to allow me to play a sport while I pursue a degree in the medical field," Keyer said.
Jaelyn Royal signed with New Mexico State University for basketball.
Kennedy Koehler's landed a full-ride scholarship with the University of California San Diego.
"UCSD is everything I want in a college. The basketball program is good and improving every year, and educationally, they are highly respected. The location of the school is ideal because it's far enough from home [but not too far], and the fact that the beach is only five minutes away helps a lot," Koehler said.
Koehler will be joined by Garrett Lake at UCSD for baseball.
Noah Hemphill committed to Kansas State University for baseball.
Erica Hardy was recruited to play softball at Western Washington University.
"I'm excited to go to WWU because I am going to be going in with a really good group of recruits and experience a new environment. I will probably major in nutrition," Hardy said.
Softball player, Marissa Kopp is headed to Calumet College of St. Joseph in Indiana this fall.
Sophia McCann signed with Trinidad State Junior College in southern Colorado for softball.
Taylor Okamura will head west to play softball at Hawaii-Pacific University.
South Dakota University picked up Dylan Underwood for softball.
Jillian James will play softball at California State Northridge.
Lacrosse player Blake Gross will go to Westminster College in Salt Lake City.
Headed east, Michael Vreeland will play lacrosse at Florida State.