By Giana Haynia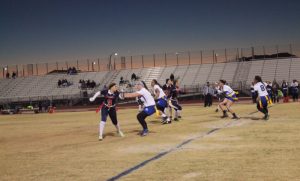 Braving the cold, varsity flag football took on Sierra Vista on Tuesday, Nov. 29 at home in a back and forth battle, ending with a loss for the Cougars 13-6.
"There's a lot we can learn from this game. It was just a lot of first game nerves that we needed to get out of the way," Brittany Whitt, senior, said.
Sierra Vista scored the first touchdown three minutes into the game followed by a one-point conversion. Caitlin Shannon, sophomore, put the Cougars on the board with a touchdown, but did not earn the one-point conversion.  A flag on the Cougars for unnecessary roughness with 48 seconds left also hindered the first half for the team. By the end of the first half, Cougars were down 13-6.
"We definitely improved after the first half, and we got into the zone. We kind of realized that this was a game, and we needed to get our heads into it," Amelia Wright, senior, said.
The second half started off strong for the Cougars when Shannon ran the ball for a gain of ten yards. The Mountain Lions efforts were stopped with an interception by the Cougs after the two-minute warning. Cougars tried to keep pushing, but when the buzzer rang, the score remained 13-6.
"I feel like we can improve, and I have a lot of confidence in our team. Looking into the rest of season, we can use this as a learning experience," Jessica Darlington, senior, said.
Their next home game will be Tuesday, Dec. 6 at 4:30 p.m. against Legacy.