By Rayne Hayes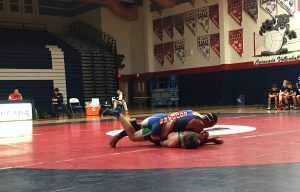 In their final game of the season on Wednesday, Jan. 25, varsity wrestling lost to Green Valley 81-0.
"This last game was honestly emotional. No matter what they [my teammates] do I love them, and I'm glad I got to wrestle here," Noah Moreno, senior, said.
After the first round resulted in a forfeit, Tyler Parlero, freshman was up. Parlero gave it a good run, but in the end lost six points to a pin. After the first match, Coronado was down by 12-0.
Anthony Skeirik, freshman, started off strong, but within the first minute, he was pinned to the mat by Kalayamprapuit. Skeirik, in desperation to get points on the board for his team, dove, aiming for his legs, but ultimately got caught when his opponent pinned him, making it 18-0.
Bringing energetic vibes to the floor, Andrew Olson, sophomore, was ready. However, well into the first minute he was pinned, giving up a tough six points and leaving the scoreboard at 22-0.
Kevin Burdalski, sophomore, succumbed to yet another pin 40 seconds into the first match. Green Valley controlled the scoreboard by 28 points.
30 seconds into the match, David Darlington, freshman, lost due to another pin by the Gators, who were giving Coronado a run for their money on their last match.
Senior Alec Pace hoped to bring some points to the board; however, within the first 15 seconds fell to the ground due to his opponent diving for his legs. The overall score at the end of the 6th wrestler was 45-0.
"When you're out there, give it your all because it could be your last time like it was mine tonight," Pace said.
Ready to give his team some hope, Cole White, junior, put up a good fight. Unfortunately, he failed to put his heel down, his opponent grabbed it and pushed him to the floor. This resulted in yet another pin leaving the Cougars in need of points.
Jason D'Richards, senior, after his first round of a 5-0 loss, pumped himself up going into the second round. Circling one another, the two rivals glared at each other both wanting points. D'Richards made a quick decision and dove for Nakamaku's legs but missed. After wrestling on the floor, D'Richards got pinned losing another six points.
With the score at 54-0, Jordan Marzka, sophomore, came in heavy scoring the first two points for his team; however, he had to win points in all three rounds to secure the win. Grabbing his opponent's legs he slammed him to the ground as the crowd stood up and cheered. In the second round, Marzka was up by one point heading into the third round. He started off by putting his opponent in a scissor three times, yet he fell one point short when the Gator slammed and pinned him.
Tristan Saghin, freshman, was up next. His fight was cut short after Warr caught and pinned him in within the first 15 seconds.
Joshua Molloy, junior, was ready. He focused in and took his time during his match. Showing great strength, he made a quick pin but didn't secure it long enough to get the needed six points for that round.
Feeling the heat, as he was the last round of the season, Jonathan Ilano, senior, went to the mat. His teammates hollered on the sideline, ignoring the score, but Ilano lost within the first round.
"We just need to keep working and keep practicing. We have to go over some key things, and we'll be good; we'll be golden for next year," Marzka said.