By Sara Seibel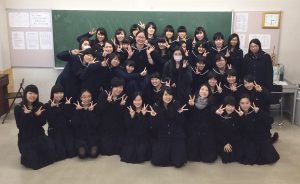 It was a real surprise for Sae Adachi, junior, when her parents first proposed that she travel on her own to Japan. After pacing back-and-forth for many days, she finally decided to study abroad for six months in Sapporo, Japan. Adachi had visited Japan many times before but not quite like this.
Adachi is full Japanese, but because she has been living in the states most of her life, she didn't know much about her heritage and wanted to immerse herself in the culture. Adachi can speak the language fluently, but it's difficult for her to read and write. These struggles only motivated her more and didn't stop her from living comfortably in her daily routine.
Traveling by subway, Adachi would arrive at her all-girls Christian school, Hokusei Gakuen Girls' Junior and Senior High School, by 8:10 a.m. Class would start at 8:30 a.m. and end most days at 3:45 in the afternoon. Some days ended at 7 p.m. because of Kyudo Club, which is traditional Japanese archery.
"My first impression of Sae was 'Wow, she seems cool!' because she looked totally Japanese, but could speak both Japanese and English fluently. Her gestures, including behavior, reactions, and actions, were also very American-like," Rin Satoh, Adachi's classmate, said.
School in Japan is divided into departments: regular, music, and English. Adachi was put into the English department.
"My classmates would always jokingly compare my American accent with the other teachers, and it would almost become like a battle between American vs. British accents," Adachi said.
Sounding out the letters 'r,' 'l,' and 'th' prove difficult for Japanese people. Adachi laughed with her peers as they tried their best to sound out words like 'water' and 'sore throat.'
Meanwhile, Adachi had to maintain her physical and online school life at the same time. At her Japanese high school, she took classes she had already done sophomore year in America, such as Chemistry and Algebra 2. Other classes included P.E, Health, Culture (where they learn Japanese culture and traditions in English), "Survival English" (basic English like conversations, grammar, and vocabulary), English (grammar, vocab), Bible, Japanese, and Japanese History. In order to meet Coronado's graduation requirements and graduate on time, Adachi's online courses consisted of AP U.S. History, AP Chemistry, and AP Lang and Comp. It was difficult maintaining both schools because school days in Japan stretched late most days, and taking AP classes was challenging enough alone for her.
"It was interesting because Asian families tend to push their kids to their fullest potential in school, but they were actually behind. It may be because they start school later than we do," Adachi said.
Adachi prefers the school schedule here because the school days are shorter. In Japan, school is year round with less days off. The minimum number of school days in Japan is 210, compared to 180 in the United States.
Every home room class in Adachi's Japanese school typically carried around 40 students, and instead of each student having their own individual schedule and going to separate classes, the home room would stay in one class and the teachers would switch for each subject. The students also had to clean their classrooms after school. Even though there are custodians, they only clean the halls and bathrooms. Every morning they would read the Bible and sing hymns.
School uniforms were implemented in Adachi's Japanese school as well. The rules were very strict: no ear piercings, no dyed hair, no jewelry, no makeup, no drinking or eating during class. For lunch, students brought meals from home or paid for them at the student store or convenience stores before school, similar to what students can do here.
Adachi arrived back home on Jan. 6.
"The jet lag after coming back is pretty tough. It's 12 a.m midnight in Japan when it's 7 a.m. here, so I want to go to sleep when I am supposed to be waking up," Adachi said.
Adachi made many new friends in Japan, and she is still in contact with them today. She also remains in the class group chat. They often ask her for English translations as some are getting ready to study abroad in Australia or the United States this August.
"This was an unforgettable experience, and I would never miss the chance to do this again if given another opportunity," Adachi said.