By Maya Fankulewski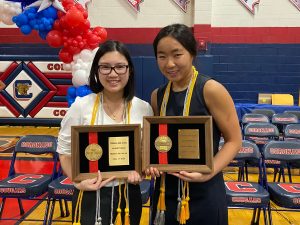 Elizabeth Ha is the only Valedictorian for the Coronado High School class of 2022. Her amazing achievements and dedicated work in the AP Academy, Coronado Women's Tennis Team, and a variety of clubs throughout high school show her determination to reach all her goals. Although she has achieved many academic goals throughout her high school career, she also grew socially and mentally through all the different people she met throughout the years. 
"I've had some classes with Elizabeth Ha, and she has always been extremely kind to me and other people," senior Dhanvi Yuvaraj said. "Even though she's accomplished a lot, she stays really humble about it. She definitely deserves everything that she achieved." 
Throughout four years of high school, Elizabeth Ha participated in a variety of clubs. These included Key Club, National Honor Society, Mu Alpha Theta, Japanese Club, and DECA. Elizabeth was also a part of Coronado's speech and debate team for 3 years. She spent her senior year of high school focusing on multiple challenging science courses such as AP Biology, AP Physics I, and AP Environmental Science. Elizabeth also played for the Coronado women's varsity tennis team from sophomore to senior year. 
"While I could discuss the scores I received on exams or the standings I have achieved in tournaments, I think my biggest achievement for myself has really been putting myself out there," senior Elizabeth Ha said. "Thanks to me joining as many clubs as I did, I was able to meet many different kinds of people that have helped change me for the better. I have had such interesting conversations about topics I have never thought of before and have managed to make memories that I will think back to fondly later on." 
Although she participated in many different clubs, sports, and AP courses, Elizabeth Ha is appreciative of her personal growth, and the connections she made throughout her school years. Participating in many diverse activities gave her the opportunity to challenge herself and meet new people. By having an open mind when meeting new people, Elizabeth was able to make many friendships. One of her favorite memories was toasting s'mores using the Bunsen burners in one of the science classes with her friends. 
Elizabeth Ha is committed to Northeastern University in Boston, Massachusetts, which has a low acceptance rate of 20%. She received the National Merit Finalist scholarship from USC, Boston University, and Northeastern. Elizabeth also won the 2022 Staters scholarship, 2 Ronald McDonald Scholarships, and an NHS semi-finalist scholarship. She plans on studying either medicine or law and her goal is to eventually run her own business.
"I am not sure where my future will go, but I plan to use college to find out. I am debating between medicine or law but I am definitely aiming to have my own business one day," Ha said. "Perhaps my connections with people here may fade with time, but the experiences I had with them along with the emotions that came with the moment will stick with me forever."