By Addison Stanton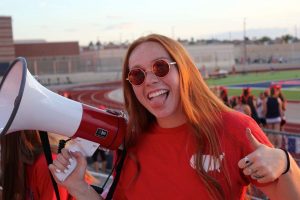 Reese Judd is quite involved with planning and executing school events. For those who may not know, Reese was elected Student Body Vice President and has a big say in the majority of the school events that take place.
"I am very proud of being able to take on the position of Student Body Officer Vice President," senior Reese Judd said. "When I started student council in my sophomore year, I didn't know what to expect and I never knew the impact that it would make on my life. I learned what it meant to be a leader and the ins and outs of the events we hosted. This position showed me what it means to be a leader, and it challenged me in ways never before."
As SBO Vice President, Reese usually has a laundry list of roles and responsibilities. First off, the candidate has to convince the students to vote for them. Once you win the election, the role begins and you start taking charge of the council, which includes forming and executing school-sanctioned events. Balancing this, extracurricular activities, and academics is quite difficult. 
"Being involved in sports has always been an essential part of my life," Judd said. "Ever since I was little, I have always been on multiple sports teams and have loved to be as active as possible. Playing lacrosse and flag football was one of the most memorable parts of high school. Being involved in sports allowed for stress relief as well as additional connections with teammates that will last a lifetime."
While in high school, Judd was on the flag football and lacrosse teams. She was on the varsity flag football team for three years and was also on the varsity lacrosse team all three years. If three years of varsity lacrosse isn't enough, Judd was the captain for two of the three years. Both sports have allowed her to make new friends and have memories that will last forever. Participating in, not just high school sports, but sports, in general, have also acted as a stress reliever for her.
For Reese Judd, one of her biggest pressures was balancing her life. She would have to split up her time so she could balance her schoolwork, social life, overall health, and extracurricular activities. To overcome this, Judd would use all of her extra time to finish and get ahead in her schoolwork. 
"I plan to finish high school and continue my academic career in college to learn about business and marketing," Judd said. 
Judd has decided that she would like to continue her education at Colorado State University. She would like to learn more about marketing and business to eventually create a business or become the CEO of a company that has a positive impact on the world. Reese also aspires to learn about, not only herself, but also about the world. She would like to explore and learn about various places she has never been to. Reese Judd has had multiple role models in her life, but the biggest one is her mom. 
"Since I can remember, I have always looked up to my mom. She is the most selfless and determined woman you will ever meet," Judd said. "She lights up every room she walks into and throughout my life, she has taught me the importance of gratitude and compassion. She showed me what it meant to be a strong and independent woman and has loved me every step of the way. I will forever want to be as great of a woman as she is today."
Reese Judd is simply a talented, self-driven young woman who has no issue diving into something she has never done before. Whether it is something like being elected Vice President or wanting to create a business, Reese will always strive for success and always find a way to improve the task at hand. 
"Going through high school or life in general, having a busy schedule is demanding. Sometimes you can feel like what you are doing is not impactful or essential enough," Judd said. "It is so important to look back on every little thing you have done and be proud no matter how small the accomplishment."